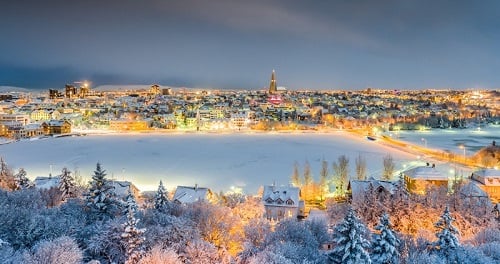 A photo of Reykjavík, Iceland, at night where drone deliveries for food services will take place. Source: Flytrex
It is hard to keep up with the rapid pace that drone delivery is taking over the last few months.
Just this week, Zipline announced its plans to launch a huge drone delivery service for medical supplies in Tanzania. Other healthcare-related drone delivery is being undertaken by Drone Deliver Canada and a parcel delivery service via drone is a new project from ZTO Express. Last month, a beverage delivery service via drone in Estonia concluded a successful pilot project. Even Oscar Mayer is getting in on drone delivery with its new marketing campaign using what it calls a Wienerdrone.
Now, Flytrex, an unmanned aerial vehicle start-up, is partnering with AHA, Iceland's largest shopping and retail website, for the first drone delivery system deployed in an urban environment. That environment just happens to be AHA's base of operations in Reykjavík, Iceland.
Flytrex and AHA are looking to take advantage of the surge in food delivery as a result of online ordering. Here, instead of using cars to deliver food to consumers—generating harmful gas emissions and wasting time for humans that could be doing other jobs—Flytrex is using drones to not just expedite food delivery but to also reach locations where delivery wasn't possible before.
Flytrex received permission to perform commercial delivery flights from Iceland's civil aviation authority allowing its autonomous delivery drone, called Mule, to carry up to 6.5 pounds in a distance of 6 miles.
Previously, AHA has been making deliveries since 2011 using a fleet of delivery vehicles focusing on products, groceries and restaurant food in Reykjavík and other parts of Iceland. AHA believes drones can be a quicker and more efficient delivery method.
"In the recent months there has been a tremendous increase in our online delivery orders, especially in the retail products and we are forecasting a very expedited growth in the grocery deliveries in the coming months," said Maron Kristófersson, CEO of AHA. "Over the last four years we have been monitoring online delivery solution technologies around the globe, and feel that Flytrex has a smart, safe and commercially viable solution to the problem. We hope to co-operate with them not only in Iceland, but also internationally in the future."
The drone deliveries will officially begin this month in Iceland and will be handled by trained AHA representatives.