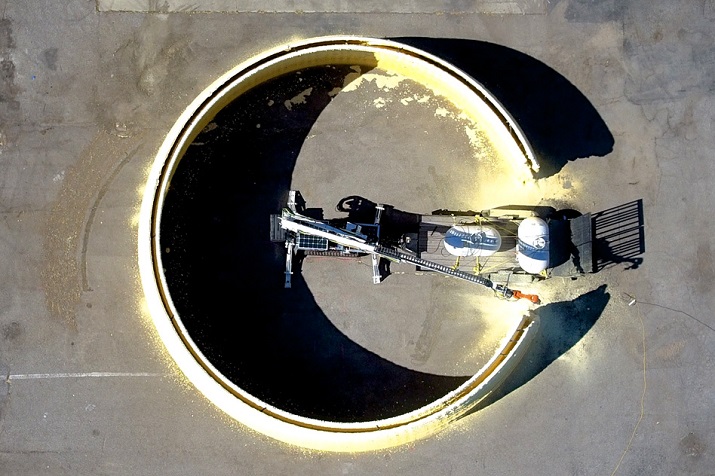 The 3-D printed building features 50 foot walls with a 12 foot dome. Source: MIT 3-D printing has grown from a novel way to make small gadgets for hobbyists or tinkerers to an industry where complex metal structures are being made, for experiments in nanotechnology, skin for robots, carbon fiber for the future of aerospace, the latest generation of shoes, hermit crab shells and everything else in between.
Now, researchers from MIT have expanded 3-D printing to design a system that can 3-D print the basic structure of an entire building. While engineers in Dubai hold the title for the first 3-D printed office building, MIT researchers looked into how complete structures could be produced faster and less expensive than traditional construction methods.
Using this method, a building could be completely customized for the particular needs of the customer and different materials could be incorporated as the process goes along for the internal structure. MIT researchers say the method could lead to new kinds of buildings being fabricated that could not easily be done using traditional methods.
The system consists of a tracked vehicle that carries an industrial robotic arm that has a smaller precision-motion robotic arm at its end. The arm can be used to direct any conventional construction nozzle — such as pouring concrete or spraying insulation. It can also be used for digital fabrication end effectors such as milling head.
How They Did It
MIT says its method features a free-moving system that can construct an object of any size. Researchers used the system to build the basic structure of a prototype with wall of a 50 foot diameter and a 12 foot dome. The project took less than 14 hours of printing time.
The construction method, called Digital Construction Platform (DCP), used polyurethane foam molds filled with concrete. But the researchers found after initial testing it could be easily adapted to existing building sites and equipment. It can also fit existing building codes without requiring new evaluations.
MIT believes eventually the system could be equipped with a scoop that could be used to both prepare the building surface and acquire local materials, such as dirt for a rammed-earth building, for the construction itself. Power could also be generated using solar panels for use in remote regions in the developing world for disaster relief after a major disaster.
"In the future, to have something totally autonomous, that you could send to the moon or Mars or Antarctica, and it would just go out and make these buildings for years," said Steven Keating, a mechanical engineering graduate at MIT. "We also wanted to show that we could build something tomorrow that could be used right away. With this process, we can replace one of the key parts of making a building, right now. It could be integrated into a building site tomorrow."
The DCP system can create complex shapes and overhangs, such as the dome the team created in the prototype, and any needed wiring or plumbing can be inserted into the mold before the concrete is poured. Keating says the construction method could produce a structure faster and less expensive than any current methods while being much safer. And because the printing process can be optimized for any shapes and thicknesses it doesn't need to match what's available in premade lumber and other materials. This would ultimately reduce the amount of material needed in a construction project.
The complete robotic system is described in the journal Science Robotics.