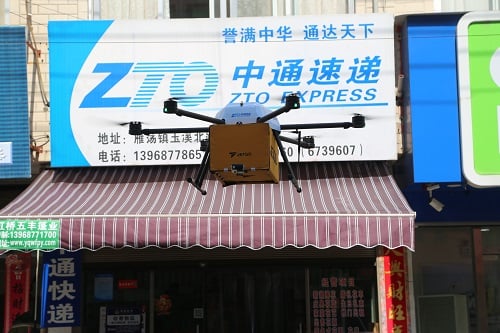 The drone used by ZTO to deliver a package locally in China. Image credit: ZTO Express
Chinese delivery company ZTO Express has successfully completed the first trial delivery using a flying drone in an industrial park in Zhejiang Province.
The drone, developed by a Chinese drone manufacturer and designed for ZTO, flew about 8.7 miles from ZTO's sorting facility in Le Qing county to an office building located in an economic development park. The drone used in the trial has a maximum range of 18.6 miles, is equipped with a 6.6 gallon container, carries a maximum load of 22.0 pounds, is preprogrammed to fly to its destination and is autonomous.
Meisong Lai, ZTO founder and CEO, says the company is developing drone delivery as a means to further optimize and increase its last-mile service. Lai says tests demonstrate that the company can shave about 60 percent off traditional delivery times using drones.
Using traditional ground transportation, the same delivery made by the test drone would have taken 50 minutes considering traffic, gate checks and more. The drone was able to do it in less than 20 minutes.
"We believe that drones can be best used for the delivery of parcels to rural areas in the future as they can improve accessibility, ease labor shortages, and reduce logistical costs and delivery time of the entire network," Lai says.
Delivery via drones is gearing up to become the next big thing in the industrial market with numerous projects beginning to test the feasibility of drones as a last mile alternative. One project began in Estonia this week to deliver drinks to a beach using a drone, another set a record for the longest delivery in May, another project was using drones as a method to transport laboratory samples between two Swiss hospitals, and UPS successfully tested its own system for delivery drones earlier this year.