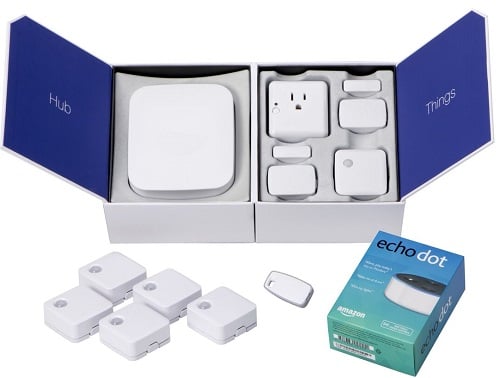 The new smart home platform for seniors. Source: TruSenseTruSense has introduced new smart home technology specifically targeted at seniors. It allows for 24/7 emergency monitoring through voice integration with the Amazon Echo Dot.
TrueSense says its platform can bring new technology to seniors without requiring them to move out of their homes or remember to wear or charge a device. The technology uses sensors and GPS to intelligently learn the way a person lives—the time they sleep, are in a kitchen or go out of a house.
"We are in a caregiving crisis in this country," says Rob Deubell, VP of TruSense. "A recent survey indicated 40 percent of caregivers report a very high burden on their lives. While cost of living is a major factor in the family decision to age-in-place, there is also a growing shortage of in-family caregivers as well professionals due to disparate family members, growing aging population and costly and unreliable in-home care options. TruSense's smart home technology was designed to give the nearly 40 million seniors that live alone today an option that makes it easier to stay in their own homes longer, while providing their caregivers and loved ones with more information on their health and wellness when they cannot be there, bringing assurance and peace of mind to the entire family."
The smart home technology reports how much time caregivers or other visitors spend in the home while monitoring for comfortable home temperature, dangerous water leaks and vehicle GPS. The GPS also plays a role in helping seniors in the early stages of dementia who have a tendency to get lost or wander. If a senior leaves the house, the TruSense technology reports their location and sends real time alerts to caregivers on their whereabouts. Family members can also use Amazon Echo Dot to check up on loved ones to find out what time they work, their current location and system status.
The platform from TruSense does not require a wearable to deliver 24/7 emergency response. Instead, in-home sensors operate as a personal emergency response system (PERS) to identify when daily activity level patterns change so family members or care workers can intervene to prevent emergencies or identify more serious medical conditions.
The platform is available for $199 with a subscription cost of $49 a month.