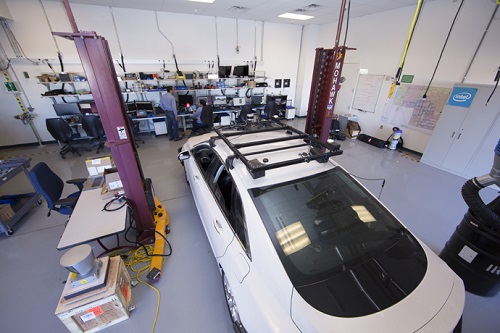 Inside Intel's Advanced Vehicle Lab in Chandler, Ariz., where tests on sensor-laden cars on nearby streets is taking place to learn information for deep learning models. Source: IntelIntel Corp., BMW Group and newly owned Intel asset Mobileye have been working on an autonomous driving platform for some time. The group has now signed up their first additional automaker—Fiat Chrysler—to continue development.
The group strives to increase development efficiency and reduce time-to-market for self-driving cars. Fiat will employ its engineers in Germany as well as other locations to help in this endeavor.
"In order to advance autonomous driving technology, it is vital to form partnerships among automakers, technology providers and suppliers," says Sergio Marchionne, CEO of Fiat Chrysler. "Joining this cooperation will enable FCA to directly benefit from the synergies and economies of scale that are possible when companies come together with a common vision and objective."
The goal is to create a self-driving platform for both Level 3 (highly autonomous) and Level 4/5 (fully automated) driving. The group is on track to deploy 40 self-driving test cars by the end of 2017. They will also use the data from the recently announced Level 4 test autonomous vehicle fleet. Mobileye plans to deploy that 100-vehicle fleet over the next year or so.
"The future of transportation relies on auto and tech industry leaders working together to develop a scalable architecture that automakers around the globe can adopt and customize," says Brian Krzanich, CEO of Intel.
The group says other automakers and technology suppliers can join the group to develop an autonomous driving platform that could be used across the industry.