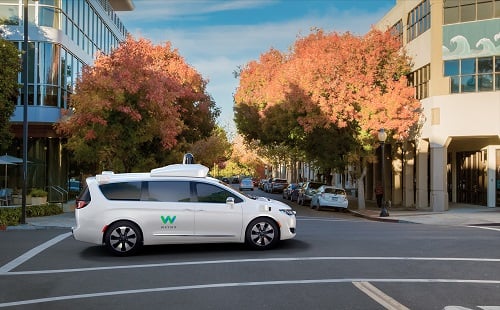 Waymo will use the new minivans to jump start its autonomous ride-hailing service. Source: FCAGoogle's autonomous vehicle branch, Waymo, has signed an agreement with Fiat Chrysler Automobiles U.S. LLC (FCA) to supply thousands of Chrysler Pacifica Hybrid minivans to support the company's driverless ride-hailing service.
The agreement builds upon a previous deal where FCA delivered 100 Pacifica Hybrid minivans adapted for self-driving to Waymo during the second half of 2016 and an additional 500 in 2017.
Waymo plans to open its autonomous ride-hailing service to the public beginning in Phoenix this year. Waymo then plans to expand the service to more cities in the U.S. using the additional Pacifica Hybrid minivans that it will acquire in this deal. Waymo has already tested its self-driving car technology in 25 cities, including Atlanta, San Francisco, Metro Detroit, Phoenix and Kirkland, Washington.
"With the world's first fleet of fully self-driving vehicles on the road, we've moved from research and development, to operations and deployment," says John Krafcik, CEO of Waymo. "The Pacifica Hybrid minivans offer a versatile interior and a comfortable ride experience, and these additional vehicles will help us scale."
In November of last year, Waymo started test-driving a fleet of Chrysler Pacifica Hybrid minivans on public roads without a driver at the wheel. The minivans became the first vehicles to attain Level 4 autonomy. The minivans run Waymo's self-driving software and are equipped with Waymo's hardware suite to convert them into self-driving vehicles. To date, Waymo has clocked more than 4 million miles in on-road testing of driverless technology.