Mobileye, a division of Intel, and Udelv, a self-driving shuttle startup, are working together to produce more than 35,000 autonomous delivery vehicles by 2028.
Mobileye's self-driving system, Mobileye Drive, will power the autonomous delivery vehicles that will begin commercial operations beginning in 2023. The companies claim this is the first large-scale deal for a self-driving system and signals that the self-driving technology from Mobileye is ready for commercial deployment.
Intel said last mile delivery is the most expensive facet of distribution, accounting for 53% of the overall cost of goods. With consumers buying more goods online, last-mile delivery volume is forecast to increase by 75% to 80% by 2030 and will require roughly 36% more delivery vehicles. Adding to this is an ongoing shortage of drivers as the workforce ages and retires.
According to Amnon Shashua, president and CEO of Mobileye, "COVID-19 has accelerated demand for autonomous goods delivery" and the size, scope and deployment of the Udelv deal demonstrates how Mobileye Drive can be used "for commercial use now and in volume."
The self-driving delivery vehicles are called Transporters, and they are expected to dramatically improve the efficiency of last- and middle-mile delivery services for goods from auto parts to groceries to medical supplies to baked goods, Mobileye said.
Already, Donlen, a commercial fleet management company based in the U.S., has placed the first pre-order for 1,000 Transporters in what Mobileye claims is the largest order to date for autonomous delivery vehicles.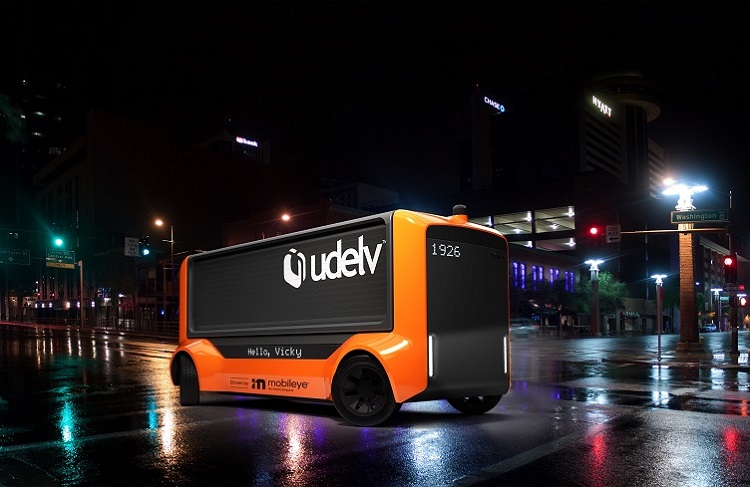 Commercial operations of the Transporters self-driving vehicles will begin in 2023 and ramp up for the next five years. Source: Mobileye
The Mobileye Drive uses the EyeQ system-on-chip to deliver Level 4 compute, sensors and software as well as the Mobileye's Road Experience Management autonomous vehicle mapping solution and safety-based autonomous driving policy. Udelv will perform the integration of the Mobileye Drive with Mobileye providing air software support and technical oversight.
(See A primer to the 6 levels of autonomous driving for a breakdown of the levels of self-driving vehicles.)
Udelv is one of numerous self-driving vehicle startups developing solutions for delivery. Nuro has been active in this market, raising $500 million and conducting trials for its autonomous delivery vans with Kroger, Chipotle and CVS. Late last year, Zoox, an autonomous vehicle subsidiary of Amazon, unveiled its Level 5 self-driving vehicle designed for urban mobility that features bi-directional capabilities. Also last year, Beep formed a collaboration with Local Motors to develop a U.S. fleet of autonomous shuttles called Olli 2.0 for passenger and cargo deliveries.
This is not the first collaboration for the future of mobility from Mobileye either as earlier this year the company formed a deal with Transdev and Lohr Group to deploy autonomous shuttles worldwide for transportation.