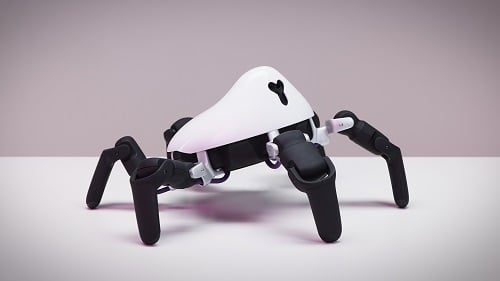 HEXA can handle different environments and terrains. Source: VincrossRobotics has reached a point where startups are producing super cool machines for a variety of markets without the need of massive amounts of investment, which is later passed on to consumers.
Take Vincross' latest project, HEXA, a six-legged, all-terrain maneuverable robot that comes with its own proprietary operating system and software development kit. Calling HEXA its flagship robot, the MIND SDK has easy-to-follow documentation so users can create skills that control the robot's movements. There is also a 3D simulator where users build robot functionality with a click of a mouse. Users can also control HEXA via a smartphone app.
"We all have this dream of what robots should be, of robots interacting with and helping humans on a daily basis. But the reality is, robots have a long way to go," says Tianqui Sun, founder and CEO of Vincross. "To date, the industry has focused on single use robots for industrial labs or household cleaning purposes or robots for children. There hasn't been a single robot or platform built for the masses – especially for those developers and innovators eager to create on robots.
HEXA can handle different environments and terrains, is easy to tinker with, includes a night vision camera and learns from the world around it. Sensors on the robot include two 3-axis accelerometers for balance, a built-in distance measuring sensor and an infrared transmitter. It is small enough and lightweight enough to fit in a backpack
"The single biggest impediment to technologies like robotics and AI is that talented developers don't have ready access to the full technology stack required to engineer new products. These new technologies require full integration between hardware, the OS and product application design," said Jenny Lee, managing director at GGV Capital, who was one of the recent investors in Vincross to the tune of $6 million. "[HEXA] is filling a palpable gap in the market for individuals who want to break into the booming robotics revolution."
Vincross has launched a Kickstarter to help mass produce HEXA and bringing it down to a price that is more accessible to the masses. The early bird special for HEXA is priced at $499 with the company planning on boosting the price to $999 thereafter. If interested, you can get more information on the Kickstarter by visiting: https://www.kickstarter.com/projects/1090670314/hexa-programmable-highly-maneuverable-robot