Agility Robotics, a spin-off from Oregon State University, have demonstrated its first robotic prototype that offers range of motion to tackle rugged environments.
"Cassie" is a bipedal robot that can stand, steer and fall without breaking at about half the weight of other robots that have been tested at OSU. Previously, the University worked on a bipedal robot that had motors that worked against either other. Cassie instead has steering, feet and a sealed system so that it can be taken outdoors and withstand rain or snow.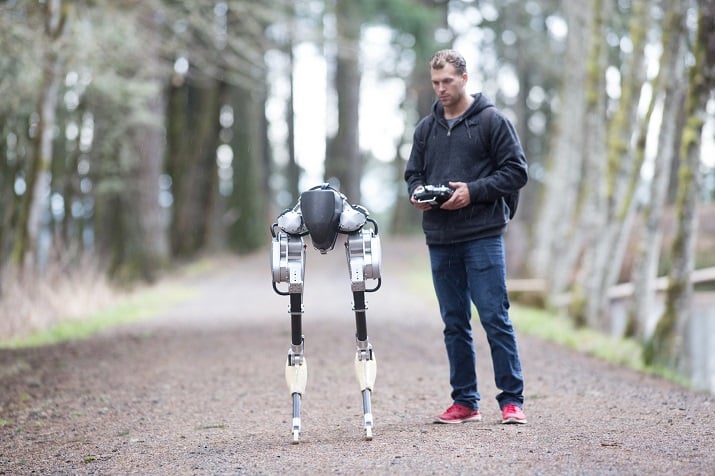 Cassie could be used to develop a fleet of delivery robots that carry goods to businesses or residential neighborhoods. Source: Agility Robotics Researchers say the leg configuration of the robot resembles that of an ostrich or other ground-running bird as it needed to be agile and efficient in movement. Agility Robotics plans to focus on commercial applications of legged robots selling to both universities and businesses that need such a robot. The company says it already has several customers and will license the technology and in the long term provide fully models.
One area that a robot such as Cassie could be used is in mobility and delivery where these robots would be used to deliver packages or to do weekend shopping chores. The key is that these deliveries would be made available 24 hours a day, every year by a fleet of autonomous vans that pull up to the curb, and a robot delivers the goods to your doorstep.
"This robot capability will free people from weekend shopping chores, reduce energy use, and give consumers more time to do the things they want to do," said Jonathan Hurst, associate professor of robotics at OSU and CTO at Agility Robotics. "It effectively brings efficient automated logistics from state-of-the-art warehouses out and into the rest of the world."
Other applications could include sending a bipedal robot into a wildfire situation to protect against humans entering a dangerous area or using the robot to traverse other terrain where humans may be put in danger.
Cassie was built from a 16-month, $1 million grant from the Advanced Research Projects Agency of the U.S. Department of Defense. Agility Robotics plans to focus on commercial applications of legged robots and will hire personnel for research, production and development of these robots moving forward.