While there are bound to be plenty of new and cool gadgets introduced at the upcoming CES 2019 tradeshow, as well as a number of new automotive inventions and prototypes, there will also be a host of new robots at the show to help with everyday chores, help manufacture items, increase social interaction and greet visitors.
Outside of playing ping-pong with Omron's Forpheus robot at CES this year, there are plenty of other robots to see in Las Vegas during the show, taking place Jan. 8-11 in Las Vegas.
Honda Autonomous Work Vehicle
Honda announced late last year it would bring to CES its autonomous work vehicle, which combines the automotive OEM's all-terrain vehicle (ATV) frame with autonomous driving technology. The vehicle is for safety, commercial and consumer markets, in applications such as search and rescue, firefighting, construction, agriculture, landscaping and snow removal.
The prototype robot traverses difficult terrain with a four-wheel drive system, GPS and sensors to guide the unit, a rail accessory mount system for accessories and attachments and onboard power plug-ins. The autonomous robot can be programmed to follow a user, inspect or follow a preprogrammed path or patrol in a pattern.
Honda already has tested the autonomous work vehicle in three different environments -- including a large-scale solar operation in North Carolina, a wildland firefighting division in Colorado and an agricultural and environmental sciences college in California. Honda said it will demonstrate these real-world tests at the tradeshow.
Rover Speed II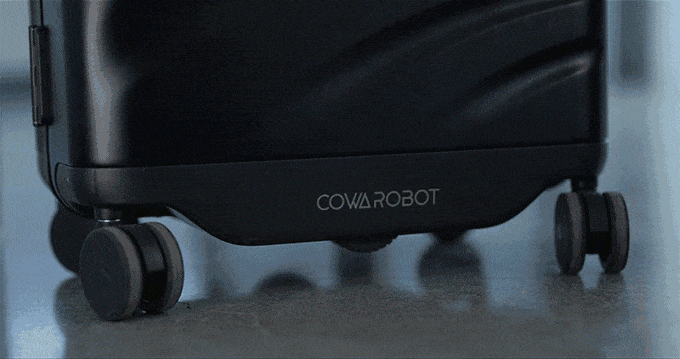 A robotic suitcase that follows travelers. Source: Rover TechnologyWho wants to lug around a suitcase in the airport or on the way to a hotel, when a robot can do it?
That's the idea behind the Rover Speed II from Rover Technology, a robotic suitcase that follows a traveler along on their journey. The suitcase robot has AI and smart auto-follow technology, implemented through radar and a camera that tracks the owner. The suitcase also features obstacle avoidance technology and smartphone tracking.
The Rover Speed II also has a manual mode, so users can and carry it via a retractable handle. The suitcase connects to Bluetooth, contains a built-in power bank, removable lithium battery and has a TSA-compatible smart lock.
KiKi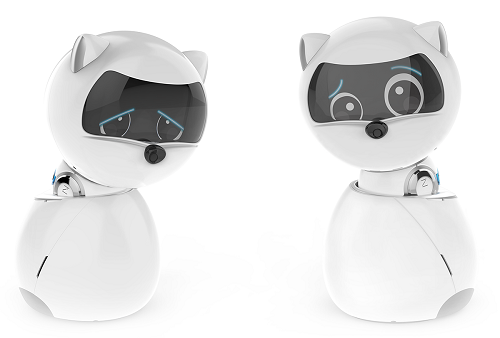 Can KiKi become a viable social robot? Source: ZoeticThe viability of social robots may be an unanswered question, especially after the failure of Kuri, Mayfield Electronics' popular in-home robot designed to interact and entertain families. But this hasn't stopped a multitude of new social robots to serve similar functions of Kuri.
Take the similarly-named KiKi, for example, which will be shown at this year's CES. The little pet robot senses the world through sight, sound and touch, with a camera located in its nose, a microphone array and 12 touch points.
Zoetic, the maker of KiKi, said the social robot can be expanded beyond its core function a family robotic pet to be an educational teacher, housekeeper and more by using a software development kit.
Temi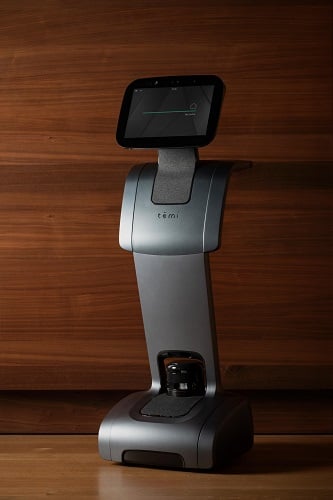 Temi can be used as either a social robot for the home or in work environments. Source: TemiNot convinced a social robotic pet is the right robot in the home? Well then there is Temi, another social robot which is designed to help with everyday life, from interacting with family through its video screen to finding a new recipe for cooking dinner. It could also be used in the office for videoconferencing or for showing slide presentations.
The robot is powered by a Robox navigation system that allows for human interaction and autonomous navigation, including 3D mapping, user detection and tracking, obstacle avoidance, path planning and facial recognition. Temi is powered by the ARM Hexa core with 360° lidar, two depth cameras, two RGB cameras, five proximity sensors, an IMU sensor and six time-of-flight linear sensors.
Temi can hear, identify, understand and respond to a user's voice with auto-speech recognition and far field voice technology, natural language processing, speech-to-text and text-to-speech engines.
Coral One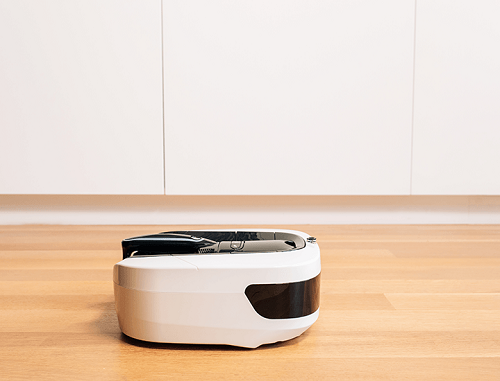 Coral is hoping to become the Roomba killer. Source: Coral RobotsRobot vacuums have been around for a while, with the Roomba being king of the market. But numerous challengers are emerging, including Coral Robots Inc.'s Coral One, which was named a CES 2019 Innovation Awards Honoree.
The two-in-one robot travels along floors, but also comes with a handheld component and nozzle accessories for hard-to-reach areas that the robot can't get to or can't clean well.
The robot includes an internal mapping system, cyclonic technology, high-power fans and custom-built wheels to travel over a variety of different surfaces.
Misty II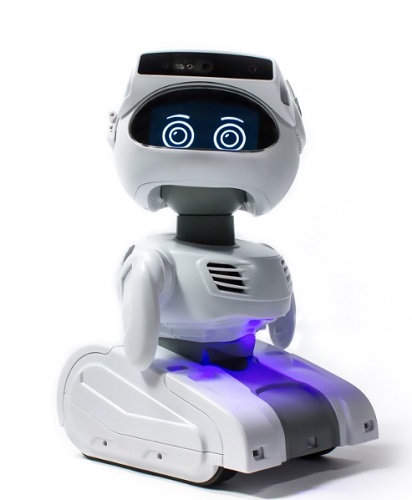 Misty II is a social robot that can control smart devices and more. Source: Misty RoboticsYet another social robot with built-in sensors and artificial intelligence is Misty II from Misty Robotics. This social robot learns the people inside the home as well as the home itself by creating maps with its sensors to autonomously navigate.
Equipped with three far-field microphones, Misty II can hear users from far away and tell if a person is yelling or not. Misty II can also patrol the perimeter of the house, serving as a security guard and sending notifications to users via a smartphone about what the robot finds.
With multiple advanced cameras installed, Misty II can recognize faces and greet new people that come into the home. The robot can learn to do other functions as well, including controlling other smart devices in the home, playing music, checking the oven, taking inventory of a pantry, changing the channel on a television, looking up instructions or recipes and more.
Promobot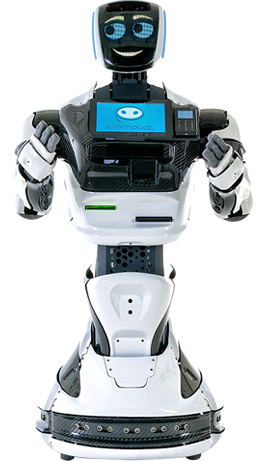 Promobot is targeted for businesses to greet guests and give information. Source: PromoBuilt for business, Promobot is an autonomous robot that communicates with people on any topic and can perform the functions of administrators, promoters, hostesses, museum guides, consultants, concierges, as well asr places such as banks, shopping centers, housing complexes, business centers and more.
Promobot can maneuver around obstacles, move both its head and arms, show materials on its center display and integrate with third-party devices and systems. The robot does not need to be accompanied and can work alongside other employees to accomplish tasks set out by managers.
Dobot M1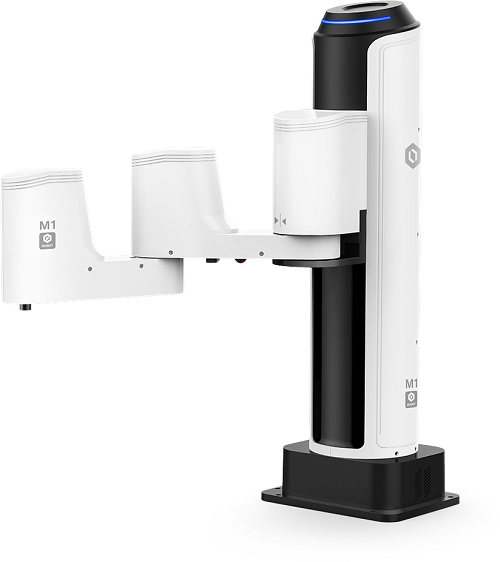 This cobot is designed to work alongside humans in industrial markets. Source: DobotA cobot for the industrial space, the M1 from Dobot is the first desktop industrial robot with DC motors that can be installed like a computer without power restriction. The M1 works alongside humans and sensors stop the robot if it becomes in range of a person.
The lightweight cobot comes with multiple accessories, such as 2D/3D vision, conveyor, linear rail, automated guided vehicle and PLC if an industry needs it and is priced at about $3,000.
Beyond Industry 4.0 and the industrial IoT, the M1 cobot can be used for STEAM (science, technology, electronics, art, math) education and for makers that need a boost in developing prototypes.