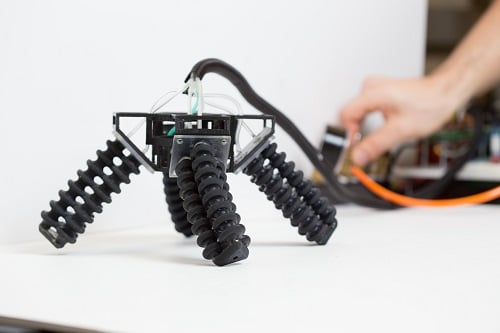 This four-legged soft robot can walk over sand, pebbles and more. Source: UCSDResearchers at University of California, San Diego (UCSD) have developed what it claims is the first soft robot that can walk over surfaces such as sand and pebbles.
Made with 3-D printed parts, the four-legged robot can climb obstacles and walk over difficult terrain using complex shapes for legs made of soft and rigid materials.
Researchers say the robot was developing using a high-end printer to fabricate soft and rigid materials within the same components. UCSD believes this will help to create a new generation of agile robots that are more adaptable than current machines and that could work side-by-side with humans. The robots could be used for capturing sensor readings in dangerous environments or for search and rescue.
"In nature, complexity has a very low cost," said Michael Tolley, a mechanical engineering professor at UCSD. "Using new manufacturing techniques like 3-D printing, we're trying to translate this to robotics."
Tolley says 3-D printing allowed researchers to build the soft robot faster and cheaper than using molds.
While previous soft robots have only been able to shuffle or crawl on the ground without lifting their legs, the UCSD robot can actually walk. Researchers tested the machine over large rocks, inclined surfaces and sand. The robot was able to transition from walking to crawling depending on the terrain.
How They Did It
The legs of the soft robot are made of three parallel, connected sealed inflatable chambers, or actuators, that were 3-D printed from a rubber-like material. The chambers of the legs are hollow inside so they can be inflated. On the outside, the chambers are bellowed allowing for greater control over the leg movements. When one chamber is inflated and the other two aren't, the leg bends.
How it walks depends on the order of the timing, the amount of pressure and the order in how the pistons in the legs are inflated. Researchers say the experiment with this soft robot will help them make better decisions when designing future soft robots.
While the current four-legged robot prototype is tethered to an open source board and an air pump, researchers are working on miniaturizing both the board and the pump so it can walk independently. Tolley says the challenge is finding the right design such as power sources and batteries.
The full report on the research can be found at the Jacob's School of Engineering on the UCSD website.