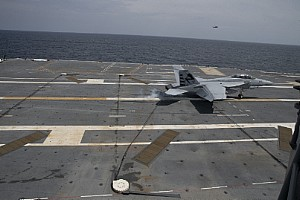 An F/A-18F Super Hornet performs an arrested landing aboard USS Gerald R. Ford. (CVN 78). Image credit: Mass Communication Specialist 3rd Class Cathrine Campbell/Released
The USS Gerald R. Ford (CVN 78), the U.S. Navy's newest and most sophisticated aircraft carrier, received and launched its first fixed-wing aircraft six days after being commissioned.
An F/A-18 Super Hornet landed on the ship, catching the No. 2 arresting wire of the Ford's Advanced Arresting Gear (AAG) system, and then launched from catapult one of the Ford's Electromagnetic Launch Systems (EMALS). The demonstration marked the first shipboard recovery and launch of a fleet fixed wing aircraft following successful testing of AAG and EMALS onshore.
The modular, integrated software-controlled AAG system consists of energy absorbers, power conditioning equipment and digital controls, with architecture that provides built-in test and diagnostics. The design results in lower maintenance and manpower requirements along with higher reliability and safety margins. It also supports the arresting of a greater range of aircraft and reduces the fatigue impact load to the aircraft.
While the mission and function of EMALS remains the same as the traditional steam catapult, it employs entirely different technologies. The system delivers necessary higher-launch energy capacity, improvements in system maintenance, increased reliability and efficiency, and more accurate end-speed control and smooth acceleration. Its design expands the operational capability of the Navy's future carriers to include all current and future planned carrier aircraft—from lightweight unmanned aircraft to heavy strike fighters.
The launch is documented in the video above. Here's video of the recovery.