The Defense Advanced Research Projects Agency (DARPA) is working on an unmanned aerial systems (UAS) portable retrieval device that can horizontally launch and catch drones of up to 900 pounds.
The goal is to create a launching and retrieval system for U.S. military units around that world that can allow for rapid-fire takeoff and recovery of UAS aircraft without the use of aircraft carriers or other larger systems.
DARPA tested its SideArm prototype in conjunction with Aurora Flight Sciences by repeatedly capturing a 400-pound Lockheed Martin Fury drone accelerated to flight speeds via an external catapult. The system was shown to be able to recover aircraft of up to 1,100 pounds exceeding DARPA's initial objectives.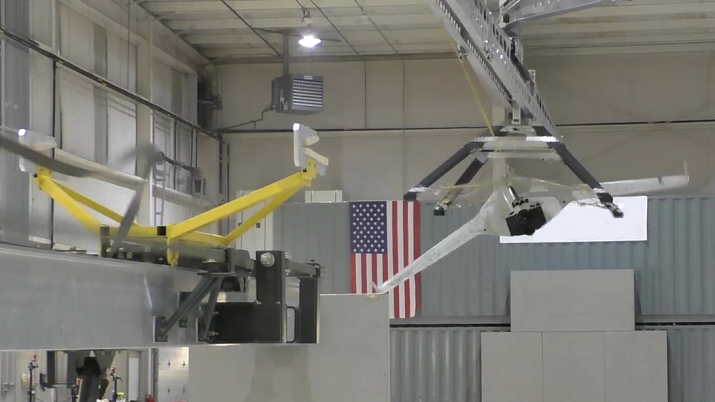 The SideArm project is designed to launch and retrieve unmanned aerial vehicles of up to 900 pounds in order to prevent the drones from being damaged. Source: DARPA DARPA says the SideArm prototype can be deployed and operated via a truck-mounted or ship-mounted platform or by standalone/fixed-site facilities requiring only a crew of two to four people to set up the system in just a few minutes.
SideArm uses a single rail that folds for transport and unlike other capture methods that use a net to catch drones, the system snags a hook on the back of the vehicle for a slower, more constant and controlled deceleration. DARPA says this will help in a safer way to capture drones without damaging them on retrieval.
"SideArm aims to replicate carriers' capability to quickly and safely accelerate and decelerate planes through a portable, low-cost kit that is mission-flexible, independent from local infrastructure, and compatible with existing and future tactical unmanned aircraft," says Graham Drozeski, DARPA program manager. Drozeski says the system could be used in a wide variety of sea or land-based operations that require intelligence, surveillance and reconnaissance (ISR) or strike capabilities.