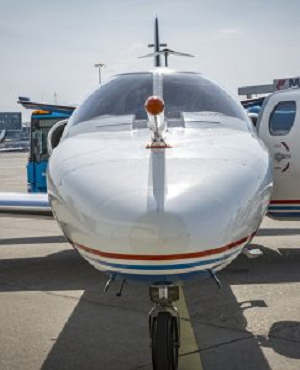 NLR Cessna Citation research aircraft equipped with nose boom. (Source: NLR)A new measurement method is expected to more accurately isolate and document aircraft engine noise during flight relative to flyover tests or in-cabin monitoring.
The acoustic measurement technique developed by NLR — Netherlands Aerospace Centre — provides accurate measurements in all directions and at various distances from the flying demonstrator. NLR's Cessna Citation research aircraft has been equipped with a nose boom that tracks the noise of another aircraft nearby.
The approach is based on acoustic measurement from the nose boom of a chase aircraft, which is flying close to the flying demonstrator. The challenge is to be able to measure the noise of the flying demonstrator while not being disturbed by the noise of the chase aircraft itself, by the boundary layer noise of the air passing over microphones or by reflections on other chase aircraft parts before reaching the microphones. A special focus is on the assessment of noise generation of open rotor engines (including counter rotating open rotor engines) in all directions and in cruise.
Putting the acoustic sensors on a nose boom of a tail-engine chase aircraft provides the maximum distance between the acoustic sensors and the chase aircraft engines and minimizes reflections. Combined with advanced acoustic measurement techniques and post-processing of the acoustic data, this should provide an accurate and widely applicable in-flight acoustic measurement method.
Two types of acoustic sensors have been tested and measurements have been taken from several directions and at several distances in different flight conditions. Synchronization between the chase aircraft and the propeller aircraft has been established to relate the acoustic measurements with the propeller position. The synchronization technology is based on that developed for wind tunnels in the Smart Fixed Wing Aircraft Integrated Technology Demonstrator of Clean Sky. Initial results indicate that the noise of the propeller aircraft is detectable and not disturbed by engine noise, indicating the feasibility of the chase aircraft acoustic measurement method.
The research is part of the PropMat project in the European Clean Sky 2 program, which is supporting Airbus with the maturation of future propulsion concepts.