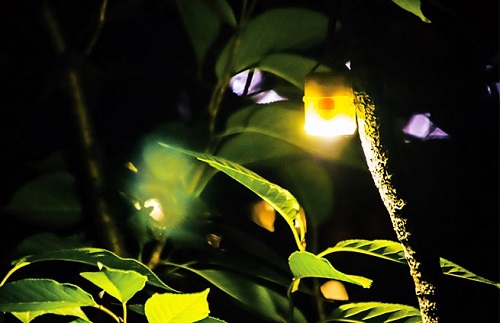 Helio reaches 220 lumens and can be attached to anything. Source: HelioIf you don't have the patience or time to build your own DIY autonomous cooler, don't worry: there are plenty of gadgets that have already been developed to make your summer the best ever.
These run the gamut of camping and outdoor gear, sporting equipment and lawn care equipment. With so much technology coming so quickly it is hard to determine what you should invest in, but these may help make your life this summer a little easier, or more fun, or both.
Helio
This pocket outdoor lantern weighs only 1.6 ounces but can reach 220 lumens, almost the same as a flashlight and brighter than a normal lantern. Containing a light emitting diode, Helio is a camping gadget that provides up to 400 lifetime hours of uninterrupted light. Light reaches up to 20 meters without the need to wear it as a headlamp.
Because Helio comes with a magnet and a hook, it can be attached to anything to provide functional light, including a bicycle, a backpack for hiking or attached to your pants for jogging at night. The lantern can last for 10 hours and only needs 20 minutes to recharge.
Helio is currently on Kickstarter and you can find more information here.
OtterBox Venture Cooler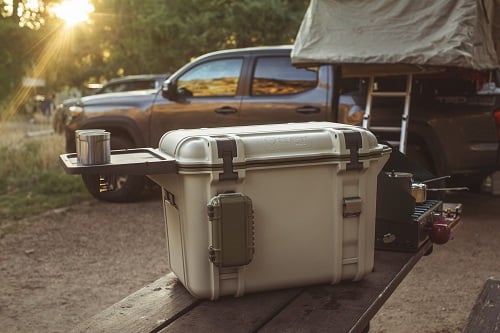 This cooler can hold ice for 14 days and has a variety of cool features. Source: OtterBoxGoing camping for a long time in bear country? Then OtterBox has the gadget for you.
OtterBox has made a successful business out of protecting smartphones and tablets from the rough impacts of everyday life. Now it is looking at turning its rugged technology to the cooler world with its Venture Cooler, a bear-resistant container that can hold ice for up to 14 days.
The Venture Cooler features integrated handles that double as tie-down anchors, rubber feet to keep it in place, a slanted interior for draining, organizational slots, a bottle opener, a cup holder dry storage tray, cutting board, side table and drybox clip.
SkimDevil Robot Pool Cleaner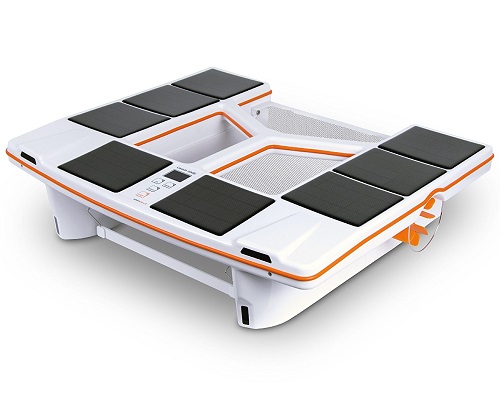 An autonomous pool cleaner controlled by a smartphone. Source: SkimDevilHaving a pool is great, but who wants to clean it? That's where the SkimDevil robot comes in handy so you don't have to deal with the leaves and other items that find their way into your summer enjoyment. The solar-powered robot works with an app on your smartphone and keeps pools free from insects, leaves and everything else.
It uses infrared sensors, a gyroscope and internal compass for navigation and obstacle detection. SkimDevil can also be programmed to run either day or night through the app.
Zenbivy Bed
What's the worst part of camping? Sleeping in an uncomfortable, restricting sleeping bag that may or may not be able to keep you warm during the night. Zenbivy Bed is a freestyle sleeping bed that allows campers to sleep however they want and adjusts to whatever position they form. It combines a fitted sheet and hood with a backpacking quilt that zips into place on top of the quilt that doesn't pin someone to a mattress.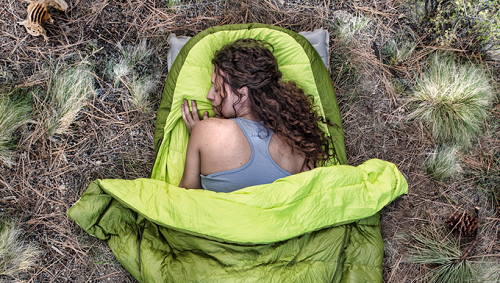 A sleeping bag with new technology allows it to expand to how a person sleeps. Source: ZenbivyUsing modern zipping technology, the sleeping bag allows you to monitor your own temperature either using the quilt attached to the fitted sheet, or using it unattached in hot temperatures. A pillow can be put inside the hood of the fitted sheet so that it doesn't slip off the pad. All of the components strap securely in place so the bag doesn't move all over during sleep but still allows a camper to move freely throughout the night.
The Zenbivy Bed is currently on Kickstarter for those looking to pre-order it.
Smart Outdoor Watch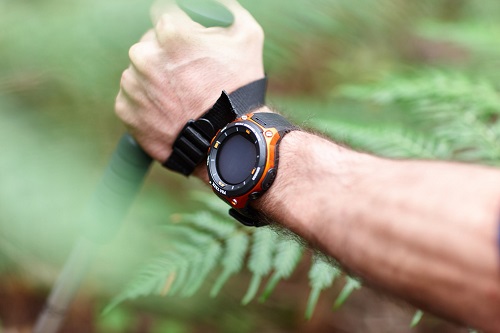 GPS-enabled smartwatch can highlight routes and important moments. Source: CasioCasio is a global player in the watch industry and has recently released its WSD-F20 Smart Outdoor Watch for outdoor excursions. The watch includes a low-power GPS and full-color map functionality that can be used offline. Maps can be downloaded in advance and the GPS can track a user's location, even when offline.
The display shows routes and provides navigation guidance and, because it is powered by Android numerous apps, can be downloaded to further the outdoor experience, Casio says. The smartwatch allows for taking notes of unmarked map spots and can alert users to important moments when they are hiking, cycling, fishing or doing water sports. It also can send important alerts for the best fishing times, rest intervals and sunrise/sunset times.
Typical battery life is one to two days under normal use. With GPS enabled it lasts from six hours to two days.
RoboMower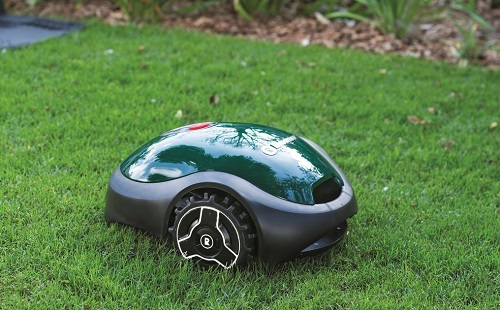 The RX12 Robomower can cut lawns up to 2,000 square feet. Source: RobomowIs mowing the lawn too much of a burden that your grass is growing unruly? Get a robot mower. The autonomous mower is controlled via a smartphone app and uses a technology called Grasscycling that cuts grass into small particles that fall into the grass roots, where they decomposes and act as natural fertilizer.
Robomow says the new RX12 can mow lawns up to 2,000 square feet and a cutting height of 0.5-inches to 1.7-inches with seven-inch stainless steel cutting blades. The robot is waterproof and features a lead acid battery with a capacity of 7.0 Ah.
Rocket Bottle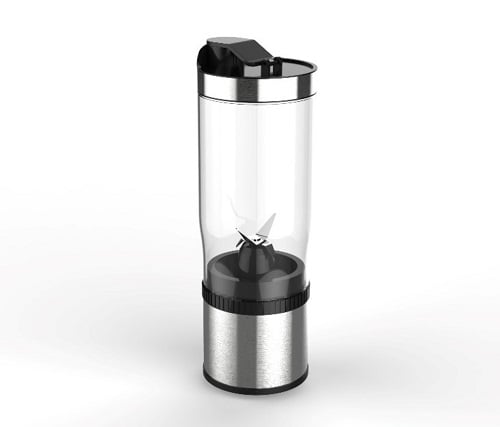 A blender you can take camping or road trips. Source: Rocket BottleBlending protein drinks and other smoothies on a camping trip requires lots of wires and power to accomplish the task. Rocket Bottle seeks to make this process much easier with a portable, lightweight blender that runs on rechargeable batteries.
The batteries have enough juice to power about 20 blends or about two hours of run time. The blender features a six-blade blending system that spins at 18,000 RPM. The bottle is also leak-proof and is designed for use on the beach, camping, road trips, at the gym or tailgating. The company will be starting a Kickstarter campaign this month to raise funds for distribution and promotion.
MK3
Outdoor activities always come with a bit of risk. You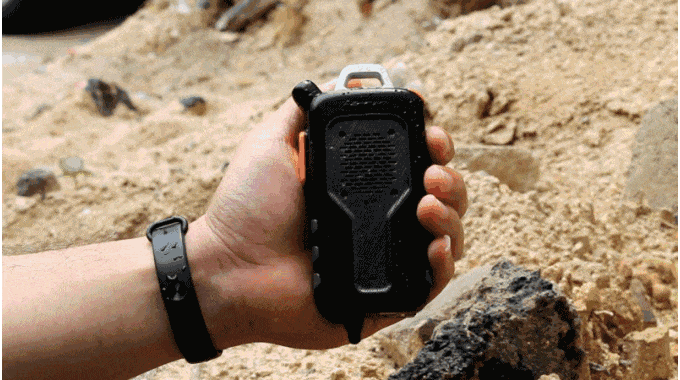 The MK3 is water resistant but can't be submerged. Source: MK3could get lost or wounded while hiking or camping. The MK3 5-in-1 smart outdoor gadget is looking to make camping or hiking safer with a device that features an emergency button, a walkie-talkie Bluetooth pairing via smartphone, Bluetooth speaker, Stylus pen and a light emitting diode (LED) light.
Once connected to a smartphone, the phone can be put away and you can talk with friends and others through the MK3. The speaker allows users to play music and the LED light emits 150 lumens, brighter than a regular smartphone. While the device can withstand a little rain or snow, it cannot be submerged.
The MK3 is available on Kickstarter, which you can find here.