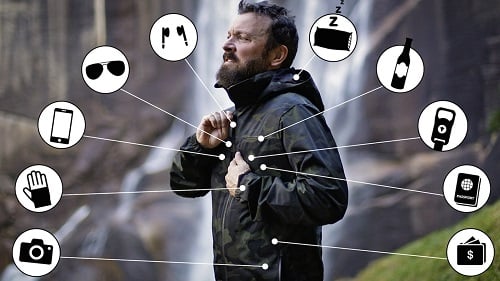 Adv3nture Jackets offer multiple functions for backpackers, campers or hikers. Source: Adv3nture JacketsAdvancements in technology have led to cool new inventions in the realm of camping, hiking and survival gear and those breakthroughs are starting to come to fruition, including a smart backpack that features a built-in power pack, USB ports and cables that run through it to charge devices.
Now, new smart jackets have been launched that include more than 23 features and functions for the next-generation of prepper or camper. The Adv3nture Jacket can convert to a travel pillow and includes a beverage pocket. It also contains a bottle opener, passport pocket, camera pocket, ear bud pockets, smartphone pocket, sunglasses pocket, magnetic enclosures and is made of waterproof fabric, waterproof seams and waterproof zippers.
There are four jackets available: The Voyageurs Hoodie that includes 23 pockets, bottle opener, pillow conversion and can zip into a windbreaker and parka; the Badlands Fleece, which is a fleece jacket that includes quilted patches for abrasion resistance on the shoulders for backpack straps and elbows for commuting and working at a desk; the Wind Cave Windbreaker, which is a waterproof jacket with taped seams and waterproof zippers that the jacket and hoodie can be zipped into; and the Glacier Parka, which is a zero-temperature rated winter jacket with 10 pockets where all three other jackets can be zipped into.
The Adv3nture Jackets are now available on Kickstarter, where the campaign has already raised more than $350,000, far exceeding its initial goal of $50,000. For more information about the jackets or the campaign, visit: https://www.kickstarter.com/projects/273791656/adv3nture-jackets/description