The number of flashlight Kickstarter products have been growing. Projects include a fully solar-powered flashlight, one made specifically for camping and hiking, a powerful flashlight the size of a keychain and even one that starts as a lantern and can then be squished down into a flashlight.
Now, available on Kickstarter is the DanForce G1 Pro, a modular customizable flashlight that adapts to any lighting situation with six modes of operation (high, medium, low, SOS and strobe mode).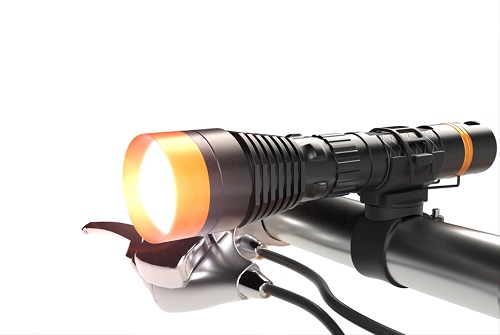 The G1 Pro can be mounted to either a bike or gun or lantern. Source: DanForcePowered by a Cree LED performance chip that produces 1080 lumens, the flashlight features a high-powered battery, an emergency power bank, a customizable bike mount, a weapons mount, compass, color filters, a tactical pouch lantern fitting, pressure switch and more. The emergency power bank and eco-mode allow for extended battery life in emergency situations.
The G1 Pro is useful for both campsites and job sites, as well as hiking.
Other features include USB charging slots, adjustable tactical head strap, hand strap, neck strap and water- and dust-resistant construction.
The G1 Pro's Kickstarter campaign has already raised more than $350,000 in presales.