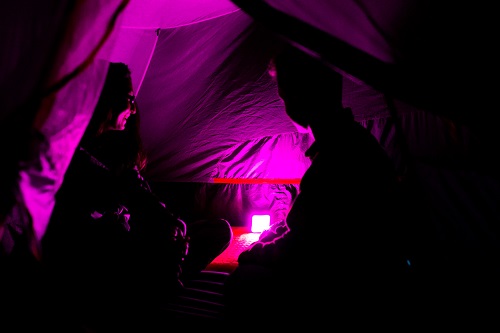 The SunLight allows users to choose any variety of colors for illumination. Source: BioLiteWhen camping or hiking, most of the time you have to account for whatever light you have on hand to be fully charged or have enough batteries to last a long time. Don't have enough batteries or leave the house with a half charge and you risk being in the dark.
There are a lot of solar powered lighting devices on the market to harness the power of the sun instead of having to rely on batteries, but sometimes these devices aren't powerful enough to power a lighting device for more than a few hours at a time.
That's what BioLite looked to change with its SunLight lighting device, which uses integrates solar panels to offer unlimited light for up to 50 hours on a single charge through a lithium-ion battery. The SunLight is a 100-lumen solar lantern that includes a sundial and a 360-degree kickstand for prime charging. The device also includes an integrated RGB light emitting diode (LED) lights that allows users to pick a favorite color or cycle through all the colors automatically.
While the sun is the primary charging mechanism, there is also a micro-USB input for a quick charge in under 2 hours. The sundial inside the device allows for the right position to place in the sun and the kickstand allows users to hang, stand or hold it on camping posts, backpacks or anywhere light is needed.
The SunLight is not used to charge other devices and is only for illumination, so preppers will still need to buy one of the upcoming portable power supplies that are coming out later this year.
The light is available, now priced at $24.95.