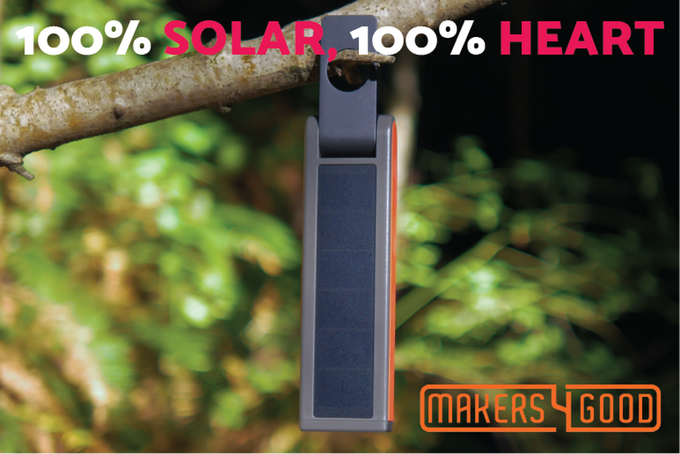 The HELIO power and light source from Makers4Good. Source: Makers4Good/Kickstarter
In the wake of recent Hurricanes Irma and Harvey, people are aware now more than ever of the need to be prepared for any storm that may come their way. One of the biggest worries people have about storms is losing power and light. Makers4Good have created HELIO, a solar-powered light and power source that provides power and light without electricity.
You can use HELIO, which has 700 hours of run time, for stargazing, camping, hiking or during a blackout. Makers4Good will donate 100 percent of the profits from HELIO to provide light and power products to people with limited access to electricity.
HELIO consists of a lantern, solar panel, flashlight, battery, USB charging port and stand. The solar panel is a one-watt ultra-efficient battery that fully charges in two days of sunshine. The lantern has white and red lights and can last up to a month on a single charge. The USB charging port charges HELIO completely in six hours.
The flashlight has three settings: low has one month of run time, medium has up to 120 hours of run time and high has 150 lumens and 15 hours of run time. The lantern also has three settings with the same lumens and run times of the flashlight. The Infinite Red™ mode gives users continuous light with one hour of sun every day and has up to 1 month of run time from the charge. The red lantern is great for working in the dark. It also has an infinite ON mode.
The HELIO power source can charge any device with a USB, like smartphones, GoPros, iPads, and headlamps. You don't have to worry about not having communication with the outside world because of a dead phone battery.
To purchase HELIO, you can pledge $49 or more to the Kickstarter campaign. Backing gifts start at $49 for one HELIO up to $1,000 for 30 HELIOs to donate to a nonprofit organization. Currently, HELIO has $21,049 of its $10,000 goal. HELIOs will start shipping to backers in December 2017.