The Bulletin of Atomic Scientists, which tracks the threat posed by nuclear weapons and other dangers since the 1940s, recently moved its Doomsday Clock forward to just two minutes before midnight -- midnight representing the end of humanity as we know it. The last time the clock was moved this close to midnight was in 1953 during the nuclear arms race between the former Soviet Union and the United States.
Given this uncertainty, many people are prepping ahead of disasters that might be on the horizon. Prepping isn't new; it has been going on for decades. But now, the gadget and technology industry is getting in on the action with new, cool stuff that hopefully will make like easier if things go wrong. While not entirely targeted specifically at survival or prepping, most of these technology innovations can be used for other emergencies, or leisure activities such as hiking, camping or hunting.
In 2018, there are a number of new tech gadgets and gear coming out, some that were introduced at CES or that will be out later this year. Here is some cool new stuff to look forward to.
1) Midland PPG100 Portable Power Generator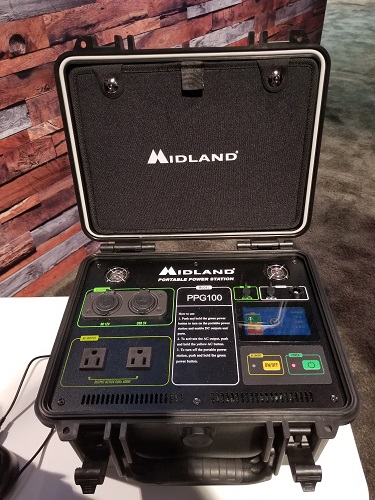 The PPG100 weighs 25 pounds so you can pack it away easily and get power. Source: Peter Brown/Electronics360Without any motors or exhaust from burning fuel, this portable power generator can be carried virtually anywhere and can even be submerged in up to three feet of water for 30 minutes when closed and sealed. It is charged though an AC wall outlet, 12V car outlet or separate solar panel.
The generator weighs only 25 pounds, is suitable for both indoor and outdoor use and is light enough to be packed away in a survival gear bag or a car trunk. The Midland generator has 950 Wh of power which is enough to power a 3 W lightbulb up to 284 hours, an LED TV up to 18 hours, a 5 W smartphone for 170 hours, a 50 W notebook for 16 hours or a mini fridge for up to 48 hours.
The PPG100 portable power generator is priced at $1,099.99 and will be available in early 2018.
2) 16,000mAh Solar Power Bank from Tough Tested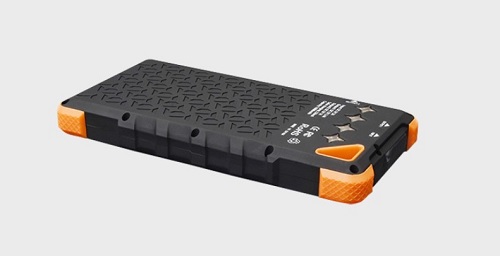 Not only can this solar charger power portable devices but also has a powerful flashlight. Source: Tough TestedNot as powerful as the Midland generator but designed to be put into a backpack or bug-out bag, the Tough Tested 16,000 mAh solar power bank can charge a smartphone for six full charges and with two USB ports can charge multiple devices at once. The solar battery is dustproof, shockproof and waterproof with a 280 mAh solar panel with an LED power level indicator.
It also comes with a quad light emitting diode (LED) four-function flashlight. So whether you are hunting, camping or need a solar charger for your survival bag, this doesn't weigh you down while providing an off-grid power source for GPS, smartphones, portable game systems, action cameras, dash cams and more.
The battery pack is available now priced at $69.99.
3) SmartPack from Naztech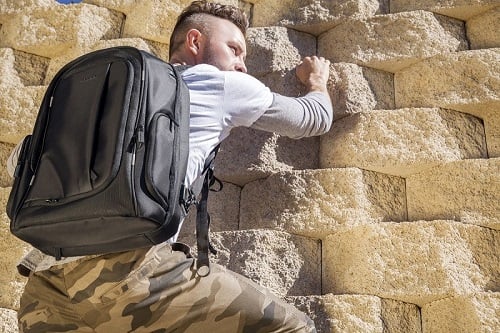 This backpack has wiring running through it to power devices while on the go. Source: NaztechThere are a lot of survival and camping backpacks on the market. Large and small, they run the gamut of carrying all of the gear you need or just the essentials. Naztech introduced at CES a new smart backpack, called the SmartPack, which is designed to be a secure home for all mobile devices. It comes with 20 custom storage pockets in three compartments including a laptop pocket that opens 180 degrees for TSA checkpoints, a reinforced pass-through sleeve for luggage stacking and a hidden RFID pocket to store wallets and passports.
The backpack also integrates Naztech's VOLT, a 27,000 mAh capacity power bank with built-in AC outlet and three high-speed USB ports. Cables that run through the backpack allow you to charge while you carry the backpack and it also has an external port for charging without having to open the backpack.
The SmartPack will be available later this year priced at $149.99.
4) OtterBox Trooper Soft Coolers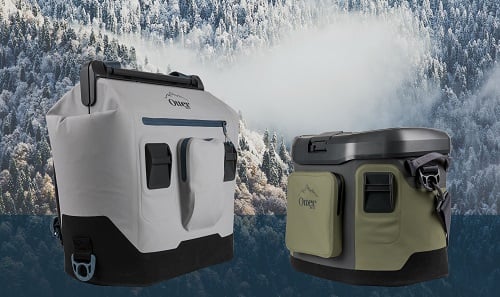 These new portable coolers will keep ice for up to 72 hours. Source: OtterBoxThese slick coolers were introduced just last week. Previously, OtterBox, known mostly for its rugged smartphone cases, had introduced its Venture Cooler with lots of bells and whistles for campers. These Soft Coolers are more compact than the full cooler and can be carried either as a backpack or rolled on the ground, depending on the product.
Each cooler includes thermal insulation and durability that can protect it against rushing rapids or abrasion. There is a mounting system on the coolers for items such as bottle openers or dry boxes. OtterBox claims the coolers can keep ice for up to 72 hours as well.
The Soft Coolers have a top lid that can stay open and comes with a latch so its 20-quart capacity will stay protected. There is also one exterior pocket that is water-resistant for added storage. The Trooper Coolers are available now with prices beginning at $249.
5) MobileHelp Smart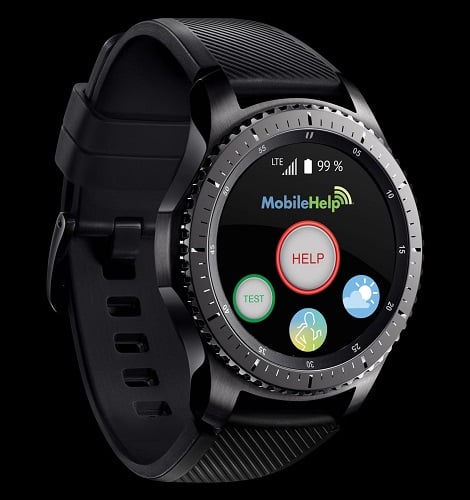 With the press of a button, a smartwatch can alert emergency response. Source: MobileHelpWhen out camping or hiking or even in a survival situation, having the right equipment when you need help is essential. With that in mind, MobileHelp is collaborating with Samsung Electronics America to expand its emergency response interface into Samsung's Gear S3 smartwatches.
MobileHelp Smart interfaces with the Gear S3 to make it easy for anyone wearing the device to get help in an emergency situation. When users press the help button on the MobileHelp Smart interface, operators receive a call for assistance and have information on who the user is, where they are located and can contact them through the watch to determine the scope of the emergency and to provide the right response.
While MobileHelp has typically had its interface in products that help the elderly or sick, it is expanding its offerings so that those in unpopulated areas can get help with a button push or those in high-risk jobs can have an added layer of safety.
6) GO-TOUGH PowerStation by Charge Worx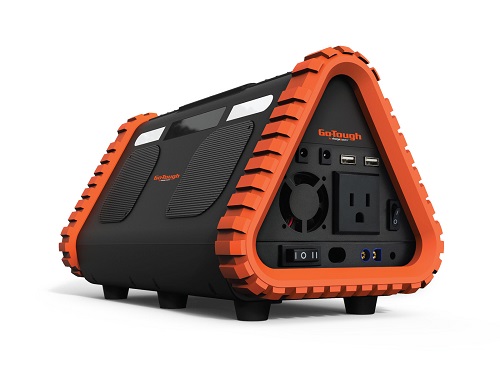 With 444W, this portable generator can start a car, light up a workspace and more. Source: Charge WorxAlso unveiled at CES was this durable, portable charger that has a core and exterior forged with materials that can withstand harsh conditions such as extreme temperatures, excessive rain, dust and wind.
The Go-Tough PowerStation is equipped with 444 W and an IP66 rating so it can jumpstart a car, charge multiple devices at once, light up a workspace and wirelessly play up to 40 hours of music. About the size of an average toolbox, it can charge devices and vehicles in six ways: AC output at 110 V, DC output at 12 V / 10 A, dual USB ports, AC inverter at 50/60 Hz, car jump starter at 20 V and Qi wireless charger at 10 W.
Other features include a 40 W wireless stereo speaker, flashlight, LED display and is waterproof and shockproof. No details on price yet but the device is slated to be available later this year.