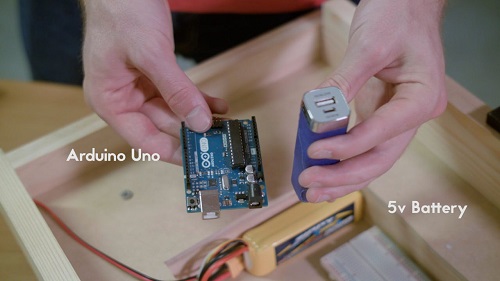 An Arduino Uno and lithium-ion battery form the basis of the DIY cooler. Image credit: Hackerhouse
As the weather heats up and the school year nears its end, the time to don swimsuits and go to the beach or spend time at a park is drawing closer.
For those that don't wish to carry around a bulky cooler with them while they participate in summertime activities, a pair of engineers have created the ultimate accessory in an autonomous cooler that follows a user via Bluetooth or GPS on a smartphone.
The cooler is powered by an Arduino Uno board, a 5V lithium-ion battery, HC-05 Bluetooth module, a GPS module and basic components found at most hardware stores.
The engineers used scrap and wood planks for the housing, basic wheels and a cheap cooler followed by the electronics. The robot cooler navigates by matching its own location to a user's location by comparing GPS coordinates. It also has the ability to set a waypoint to the cooler so that it follows a path to another location without the user.
They configured a customizable Internet of Things (IoT) app to control the cooler with a list of simple commands, including a lid that automatically opens and closes through a command in the app. The cooler can be removed in order to carry other items such as beach towels, swimsuit bags or whatever you want.
Learn everything you need to build your own cooler and how they did it by visiting hackster.io.