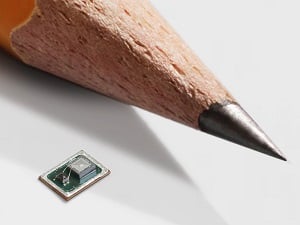 The VM1010 piezoelectric MEMS microphone. Image credit: Vesper
Vesper has introduced a microelectromechanical systems (MEMS) microphone that draws nearly zero power allowing voice activated devices to last longer.
The VM1010 device is a piezoelectric MEMS microphone that offers touchless user interfaces for consumers while consuming 6 µA while in listening mode extending the battery life of voice-activated systems to months or years by enabling the rest of the system to completely power down while waiting for a keyword.
Vesper says this could allow designers to create an entirely new class of rugged, battery-operated, voice-activated devices that could work anywhere. The MEMS features a single-ended analog output, it is dustproof to IP5X, waterproof to IPX7 and includes a configurable voice zone that allows for a 5-foot radius to 20-foot radius-zone to trigger the system and increase to a normal operation mode.
The VM1010 is sampling now.