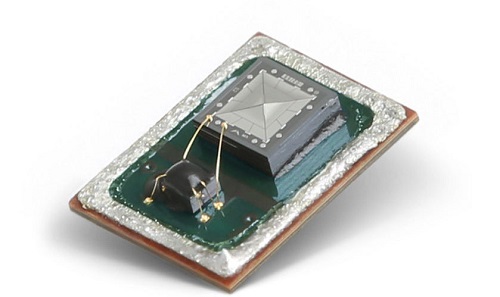 The piezoelectric MEMS. Source: Vesper Vesper and Synaptics Inc. are collaborating on creating ultra-durable, high-performance and highly stable voice interfaces for Amazon Alexa Voice Service (AVS) devices.
The collaboration will bring Vesper's piezoelectric microelectromechanical systems (MEMS) two and four-microphones to AVS development kits. The microphones are being increasingly used in far-field applications such as smart speakers, smart home products and Internet of Things (IoT) applications, Vesper says.
The piezoelectric MEMS microphones are immune to contaminants such as water, oil, particles and dust so they can be deployed in environments such as a kitchen without fear of failure due to contamination as well as greasy fingers, flour dust, splattering oil and smoke, the company says. The MEMS chips also have a high signal to noise ratio (SNR) and a high acoustic overload point (AOP) to support acoustic echo cancellation (AEC) performance.