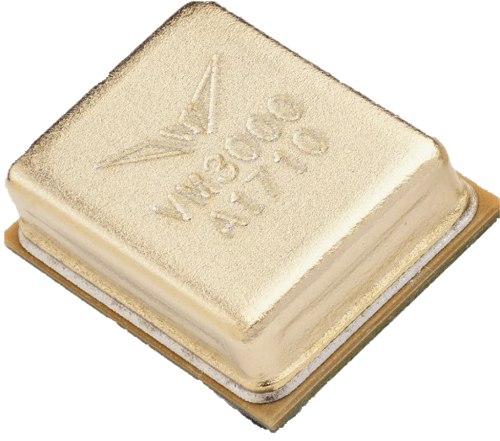 The VM3000 series. Source: VesperMicroelectromechanical systems (MEMS) vendor Vesper has introduced what it claims is the first piezoelectric digital MEMS microphone.
The VM3000 is the first digital microphone in Vesper's portfolio, opening up the applications that can use piezoelectric MEMS microphones. The low power microphone features a startup of less than 200 microseconds and can be used from a digital interface such as smartphones, automobiles, laptops and smart speakers.
The MEMS chip features pulse density modulation (PDM) output that allows multiplexing of two microphones on a single data line and high immunity to radio-frequency interference (RFI) and electromagnetic-interference (EMI).
The VM3000 has a typical 63 dB signal-to-noise ratio at 1 kHz signal and offers an acoustic overload point (AOP) of 122 dB sound pressure level. Piezoelectric MEMS have ultrafast startup times and offer a two times improvement in keyword accuracy when used with Vesper's ZeroPower listening technology, the company said.