Vesper
, a developer of advanced acoustic sensors, has demonstrated reportedly the first commercially available quiescent-sensing MEMS device, opening the possibility of acoustic event-detection devices at practically zero power draw. Drawing a scant 3 µA of current while in listening mode, Vesper's newest piezoelectric MEMS microphone—VM1010—will dramatically advance voice and acoustic event monitoring.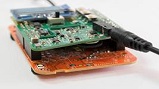 Vesper Demonstrates Commercial Quiescent-Sensing MEMS Device for Consumer Products
Even in sleep mode, VM1010 preserves its very high signal-to-noise ratio (SNR)—which is essential to improving acoustic range. In fact, there is absolutely no SNR penalty for going into low power, extending the distance of far-field voice control in battery-powered systems.
VM1010 is a single-ended analog piezoelectric MEMS microphone. Engineering samples of VM1010 are available now. Production samples will be available in the fourth quarter of 2016.