A new line of waterproof, dustproof and shockproof piezoelectric microelectromechanical systems (MEMS) microphones will be introduced by electro-acoustic vendor XinGang Electronics Co. Ltd. utilizing the products from Vesper in a new collaboration between the companies.
The agreement between the companies will see Vesper's first piezoelectric MEMS microphone, the VM1000, integrated into XinGang's product portfolio of MEMS microphones for consumer electronics products, including smartphones, wearables and devices for the Internet of Things. The Vesper microphone offers a very high signal-to-noise ratio (SNR) and very low noise for improved acoustic performance for voice-enabled applications, Vesper says.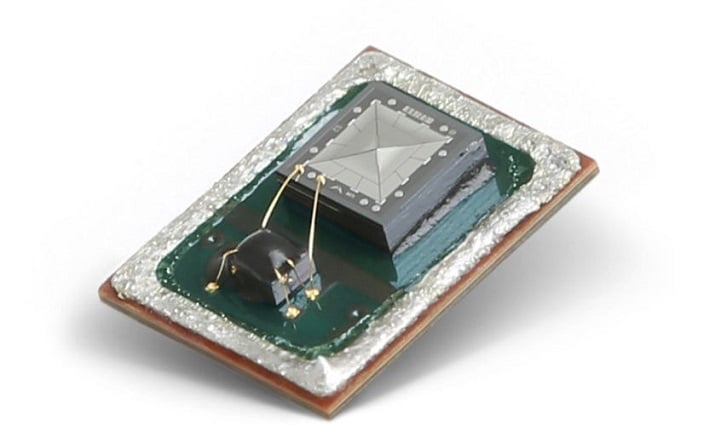 The Vesper VM1000 is waterproof, dustproof, particle resistant and shockproof, allowing this consumer device to be dropped, submerged in water or bathed in dust, and it still operates properly. Source: Vesper The collaboration comes as consumers are desiring far-field audio in their smartphones and smart home devices, where they want to record audio from across a room or use voice to control a television. In traditional capacitive MEMS microphones, the audio quality proves to be unstable, Vesper says. In a piezoelectric MEMS microphone, far-field audio is simplified and more consistent in the manufacturing process and that carries over to the final products. The VM1000 is built to withstand harsh environments so that phase and sensitivity is well matched in the final consumer products, the company says.
"MEMS microphones are shipping by the hundreds of millions in smartphones, laptops and tablets, and emerging market sectors such as smart home devices and wearables represent newer areas for growth," says Chris Foh, chief strategy officer at XinGang Electronics. "Expanding our portfolio through our collaboration with Vesper will allow us to offer a very high-performance, far more resilient, MEMS microphone to our customers in these and other consumer markets."