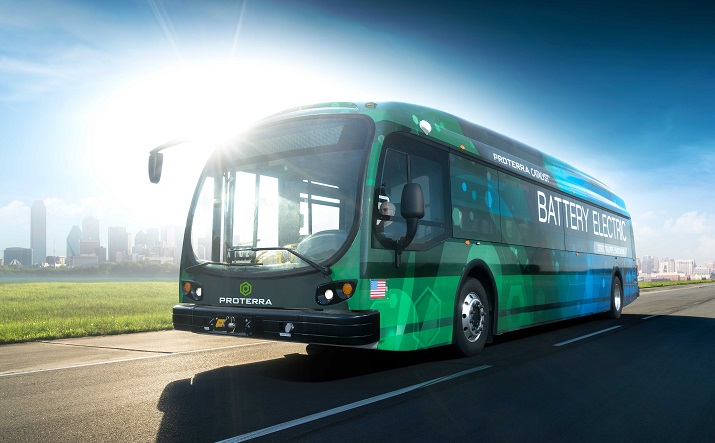 Proterra's new electric bus was recently released to take advantage of cost savings. Image credit: Proterra
Truck transportation vendor Proterra has begun testing what it claims is the first autonomous driving bus program.
Proterra says the program is being conducted to establish safer mobility solutions that will help to build public confidence in the safety and eventual autonomous mass transit services that are likely to become a reality.
The company says the pilot program will deal with real road conditions from the perspective of public transit systems, something other tests such as those being conducted by Google, Uber, Apple, Volvo and others are not doing. Instead, these companies are focusing on passenger systems. The project will look to the most challenging aspects related to mass transportation, including dense and dynamic environments, degraded conditions and anew for swift emergency response.
Proterra says it will be exploring the use of a new set of robotic perception algorithms in order to meet these challenges and focus on multi-modal sensors and a new multi-modal localization and mapping. What this means is the software will not just solely detect traffic but predict traffic flows and plans to enhance safety.
The pilot project will be conducted with the University of Nevada, Reno that will focus on vehicle perception, navigation control, path planning and vehicle-to-vehicle as well as vehicle-to-infrastructure research.
"Autonomy is key for safety, efficiency and reliable transportation systems at scale. Our shared vision is to have robust, long-term autonomy to enable safer modes of transit," says Carlos Cardillo, director of the Nevada Center for Applied Research at the University of Nevada, Reno. "In the pilot, we plan to research and develop a robust set of algorithms for localization and mapping, object detection in the domains of multi-modal fusion and recognition of intent to ultimately advance robotic perception and move systems closer to our simultaneous goal of enhancing safety. The project involves University researchers in advanced-autonomous systems, computer sciences, synchronized mobility, robotics and civil engineering."
Proterra will work on the autonomous bus project in three phases. Phase 1 will focus on data collection, vehicle instrumentation and intelligent transportation systems assessment. Phase 2 will work on data mining, communications and algorithms development. Finally, Phase 3 will focus on licensing and commercialization.