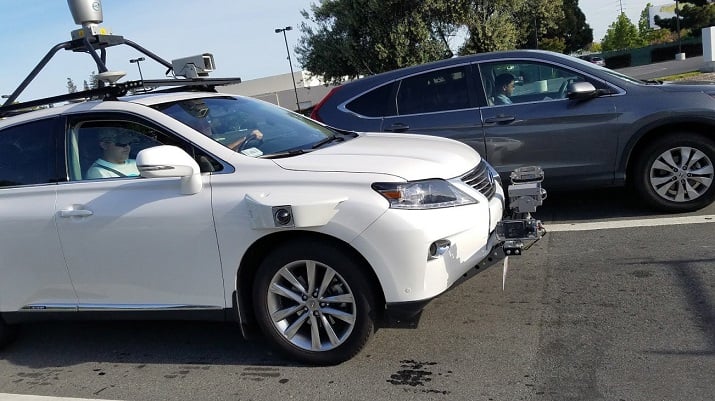 Photo of the purported Lexus with Apple's self-driving technology. Image credit: Bloomberg
Two weeks ago, the California Department of Motor Vehicles (DMV) released a list of companies that were granted permits to test autonomous vehicles in the state. Apple Inc. was one of the companies on the list, something that was a bit of a surprise given that the smart device maker recently shook up its self-driving car project.
Now, photos have emerged that suggest Apple is already testing its autonomous vehicle technology on the roads of Silicon Valley. The photos, taken by Bloomberg, show the vehicle being tested is a Lexus RX450h SUV equipped with two radars, cameras and a 360 degree 3-D LiDAR.
Last year, it was reported that Apple was shifting its autonomous driving priorities from building its own branded vehicle to investing research into an autonomous driving technology that it would then sell to car makers to incorporate in their own vehicles. At the time, Apple reportedly had a quick time table to get the technology off the ground with a deadline to demonstrate the self-driving platform by the end of 2017.
So-called Project Titan was originally a way for Apple to enter not just the car market with its own vehicle but to further push its brand. However, given the intricacies of the automotive market, it decided to pursue a different path toward autonomous driving.
If the photos are accurate, Apple's quick time table to get its self-driving technology off the ground has taken significant steps to actually testing the technology on roads. The company joins numerous other automotive and technology companies testing autonomous driving vehicles on actual streets, including Google's Waymo division that recently expanded its program in Arizona, Drive.ai that showed off its test on a rainy night, Uber and Volvo's San Francisco-based program, NuTonomy's Boston tests and GM's plan for its Cruise Automation line.