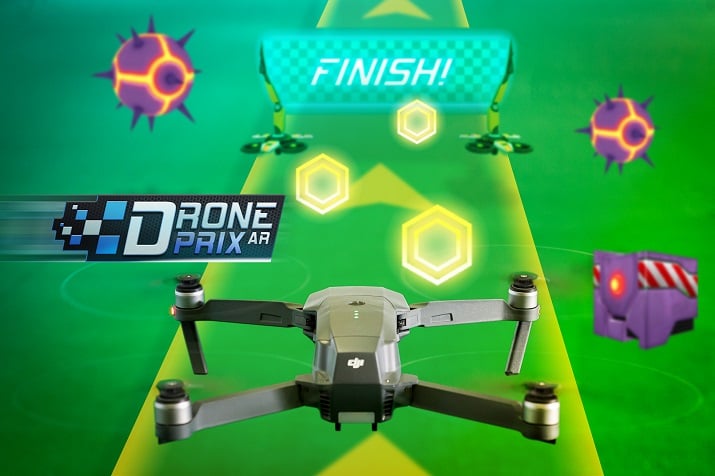 Augmented reality projects a virtual obstacle course where real-world drones can compete. Source: EdgybeesDrone maker DJI has partnered with Israeli augmented reality tech vendor Edgybees for a new mobile AR platform that allows users to pilot drones in a virtual obstacle course.
"Drone Prix" is billed as the first augmented reality mobile app created specifically for use with DJI's unmanned aerial vehicles (UAVs) including the Phantom 3, Phantom 4 and Mavic Pro. The app allows users to pilot drones in a virtual obstacle course while collecting prizes and avoiding obstacles along the way that are all generated via a smartphone or other handheld device.
Pilots then can compete over the best performance, points and time completed in the course and check their scores against the leaderboard with other drone pilots worldwide. The app features both competitive and solo modes, flight assistant that helps track the drone in the 3-D space while navigating, more than 30 different obstacle courses with varying degrees of difficulty and social media sharing.
"When we first came up with the idea for this app, we wanted to create a new experience for pilots combining the joys of flying with the thrills of gamification," said Menashe Haskin, CTO and co-founder of Edgybees. "In contrast to flight simulators, Drone Prix AR provides a much more immersive experience that combines virtual obstacles with real-life piloting skills"
The app can be downloaded to a smartphone and when the drone, remote control and mobile app are powered on and connected, the user gets the drone's camera view on their app. Then they can set off on an obstacle course.
Edgybees used DJI's software development kit (SDK) in order to build the augmented reality app. DJI says the SDK is not just meant for creation of new usage applications but can also lead to new business opportunities such as the one from Edgybees.
DJI is offering drone operators in Korea to test out the program in its DJI Arena and in DJI's New Pilot Experience Program to help master piloting skills needed to compete in the obstacle course.