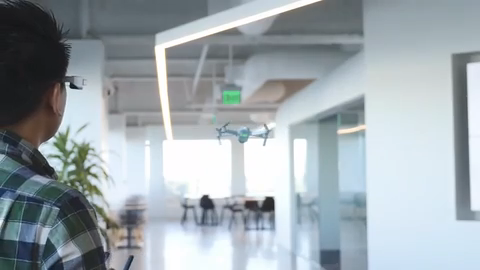 A new AR flight simulator app allows a user wearing Epson's Moverio smart glasses to fly a virtual 3D drone in the real world. Source: Epson Moverio
Earlier this week, Epson announced the launch of an augmented reality drone flight simulator app optimized for its Moverio BT-300FPV Smart Glasses (FPV/Drone Edition). Designed to teach new pilots to fly and experienced pilots to sharpen their skills, the project represents a part of Epson's ongoing collaboration with drone maker DJI.
The app allows a user to fly a virtual 3D drone in the real world using flight controllers from a number of DJI drones, including the Mavic Pro, Phantom 4, Inspire 2 and Spark. It is currently available at drone retailers and DJI stores, and will be published on the Moverio Apps Market later this year.
The flight simulator app was created by Y Media Labs and represents the first application in a series of aerial AR apps the Silicon Valley-based creative technology agency is developing in partnership with DJI and Epson. A full-featured app designed to enhance the safety, productivity and capabilities of DJI drones is scheduled to be launched by the end of the year.
Epson's Moverio technology represents a long history of innovation that began when Epson launched its first 3LCD projector in 1989. Today, the Moverio line of smart eyewear spans personal, multi-user and industrial segments.