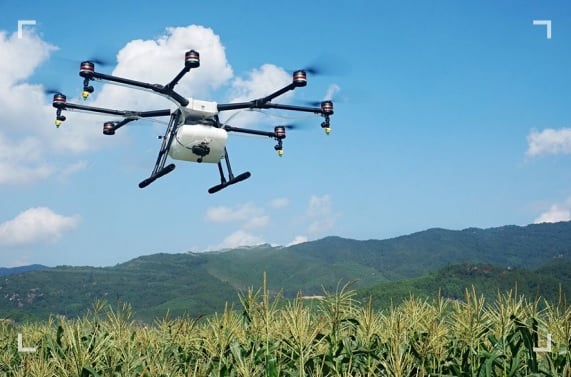 New software from Dedrone can detect all of the DJI commercial drones including those that use Lightbridge and OcuSync downlinks. Source: DedroneAs the world grows accustomed to the use of drones in everyday life from consumer aviation to military and industrial use, the need to protect critical assets from spying or possible harm is becoming equally as important.
Recently, the Federal Aviation Administration (FAA) instituted airspace restrictions to include drones coming within 400 feet of 133 military bases and Department of Defense locations. This is a first for the FAA.
In order to help detect drones, Dedrone has released a new software platform that detects and classifies all of the DJI popular commercial drones on the market including the Mavic, Phantom 4 Pro, Phantom 4 and Phantom 3 series. The Phantom 4 has integrated computer visions that allows it to fly autonomously, dodge obstacles and track movement. DJI also offers filmmaking drones that integrate HD video transmission, 4K camera and a 360 degree rotating gimbal for professional filming and aerial imaging.
DJI drones include digital downlinks called Lightbridge and OcuSync that allow for the transmission of data from hardware to the pilot or base station. These downlinks can connect to the Internet via remote control, and livestream the content to YouTube, Facebook and other social media. With more companies and governments looking to control the flight paths of drones, this technology could present problems.
Dedrone's DroneTracker technology can passively detect when a DJI drones is within protected airspace, use the data to support locating the flightpath of the drone and archive the information for future forensic evidence.
Dedrone says the advantages to the DroneTracker system is that it does not need a license to operate, unlike other active detection systems, and does not emit radio waves that may conflict with FCC regulations and federal law.
"When a single drone manufacturer is able to create a proprietary offering, such as Lightbridge, this makes a barrier for most detection programs to accurately pick up a drone's signals," says Dirk Backofen, head of telekom security at Dedrone. "This connection between Dedrone's DroneTracker and DJI Lightbridge shows how the company is committed to detecting all drones, and is advancing every day as the drone market continues to innovate."