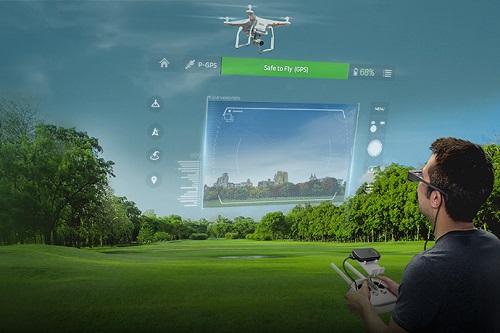 The Moverio BR-300FPV glasses can use AR to show drone status and flight assistance. Source: EpsonEpson has introduced a new mixed-reality app for DJI drone pilots using the company's Moverio augmented reality smart glasses.
The Drone Soar app allows users of DJI drones to see virtual objects in the real world as well as flight telemetry data and video feed monitoring.
Other features of the app to be used with DJI drones and the Moverio headset include pre-flight visualization, real-time flight assistance and post-flight visualization experiences. Epson worked with DJI to improve the safety, productivity and capabilities of DJI drones that are used by consumers as well as professionals for photography and industrial markets.
Because the Epson Moverio BT-300 FPV glasses are augmented reality, pilots can use the features while still having line-of-site with the drone as the data is displayed directly in front of the user so users don't have to look down at a mobile device.
Other features include a downloadable map so users can select the region of the map they want to download for offline use. Pre-flight status check notifies users of flight restrictions or if something needs to be changed before takeoff. The Drone Connect feature gives vitals of the drone, such as flight status, battery, HD mode and altitude. Smart Mode allows pilots to select and switch to more than 10 modes for different flight experiences. Finally, the in-flight camera edit setting gives users the ability to edit camera settings of drones while in flight or when connected for optimal shooting conditions.