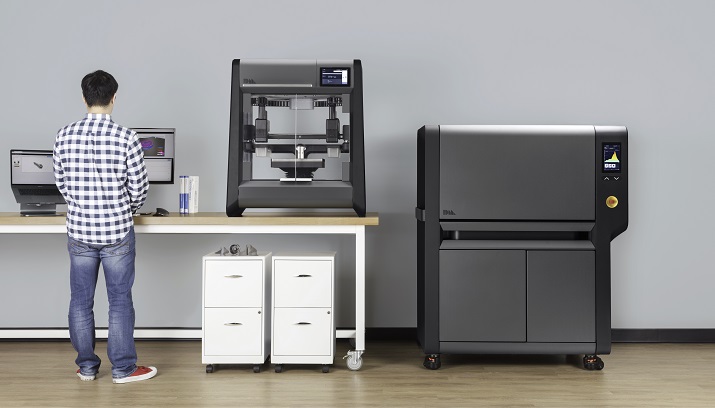 The complete DM Studio system includes a metal 3-D printer, debinder and microwave-enhanced sintering furnace. Source: Desktop MetalAfter raising $97 million in funding from high profile investors including Google, GE and BMW, Desktop Metal has unveiled its initial 3-D printers for rapid prototyping and mass production of metal parts.
Desktop Metal has introduced two printers — the DM Studio and DM Production systems — that the company says increases the speed of metal 3-D printing by 100 times that of current technologies while reducing costs.
The DM Studio system is 10 times less expensive than current metal production technology and includes a printer and a microwave-enhanced sintering furnace that allows engineers and designers to create complex geometries for metal 3-D printed parts, Desktop Metal says. The printer alone is priced at $49,900 but the complete system with the printer, debinder and furnace is priced at $120,000.
Desktop Metal says that unlike current metal 3-D printing processes, the DM Studio system does not require hazardous powders or laser or cutting tools to operate. Instead it used a bound metal deposition (BMD) process to make the metal parts. This process is similar to what is used to make 3-D printed plastics, called fused deposition modeling (FDM).
Manufacturing metal 3-D parts using this system does not require dedicated operators as the system uses cloud-based software to streamline the entire workflow allowing engineers to move from computer-aided design (CAD) software to printed parts seamlessly, the company says. The parts can be removed by hand while the print cartridges are swappable allowing for fast material changes.
The DM Studio system supports hundreds of different metal alloys that can be used for either prototyping or mass production and the system uses single pass jetting (SPJ) technology making it 100 times faster than laser-based additive manufacturing systems, Desktop Metal claims.
"Until now, metal 3D printing has failed to meet today's manufacturing needs due to high costs, slow processes and hazardous materials," said Ric Fulop, CEO and co-founder of Desktop Metal. "Desktop Metal has eliminated these barriers by developing metal 3D printing systems that can safely produce complex, strong metal parts at scale."
The DM Studio system is available to reserve in May with shipping slated to begin in September. The DM Production system will also be available for reserve in May with shipping beginning in 2018.