The idea to create a skin for robots that is flexible but coated with sensors is something that could revolutionize a number of industries.
While there have been some breakthroughs in developing such technology, the costs would be extreme.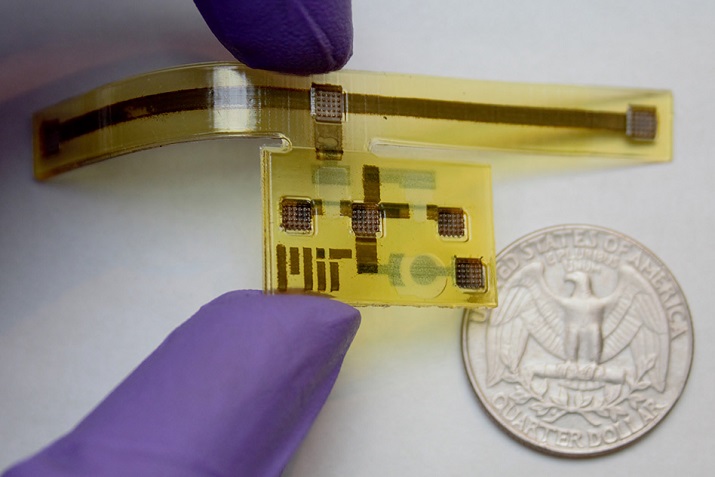 MIT researchers have built a device that could be used to 3-D print robotic skin at a low cost. Source: MIT Researchers from MIT's Computer Science and Artificial Intelligence Laboratory may have found an answer by demonstrating 3-D printed, flexible electronics that combine sensors and processing circuitry and can act on their environments. The team built a device that responds to mechanical stresses by changing the color of a spot on its surface.
The device was inspired by the golden tortoise beetle, or goldbug, an insect whose exterior appears golden but turns reddish orange if it is poked or prodded.
"In nature, networks of sensors and interconnects are called sensorimotor pathways," says Subramanian Sundaram, an MIT graduate student in electrical engineering and computer science (EECS). "We were trying to see whether we could replicate sensorimotor pathways inside a 3-D-printed object. So we considered the simplest organism we could find."
Printable electronics are typically flexible circuitry that is deposited on some type of plastic substrate. This greatly increases the range of devices the technique can yield and because the substrate can consist of many materials, interlocked in intricate, regular patterns, it broadens the range of functional materials that printable electronics can use, researchers say.
This opens the possibility of devices that could be printed on flat sheets that then fold themselves into more complex three-dimensional shapes. Robots printed that self-assemble when heated could one day be a reality, MIT believes.
How They Did It
Researchers used a custom 3-D printer that includes two different print heads—one for emitting hot materials and one for cool—and an array of ultraviolet light emitting diodes (LEDs). Using ultraviolet radiation to cure fluids deposited by the print heads produces the device's substrate.
A copper-and-ceramic heater was added to deposit the semiconducting plastic, which is suspended in a fluid that's sprayed onto the device surface. The heater evaporates the fluid leaving behind a layer of plastic that is only 200 nanometers thick.
Instead of using a traditional transistor—which involves a metal wire gate that sits on top of the semiconductor channel separated by an insulator—the transistors in the MIT device separated the gate and the semiconductor with a layer of water containing a potassium salt. Charging the gate drives potassium ions into the semiconductor resulting in conductivity and can be powered by a standard 1.5 volt battery.
While this does render the device less durable, researchers are working on an option that replaces the liquid with something between a solid and a liquid, maybe a hydrogel. But this will come later in the project.