On Oct. 4, MIT will open MIT.nano, a new nanotechnology center. After six years of design and construction, the $400 million cutting-edge research center is the largest, most comprehensive and most accessible university nano research center in the U.S.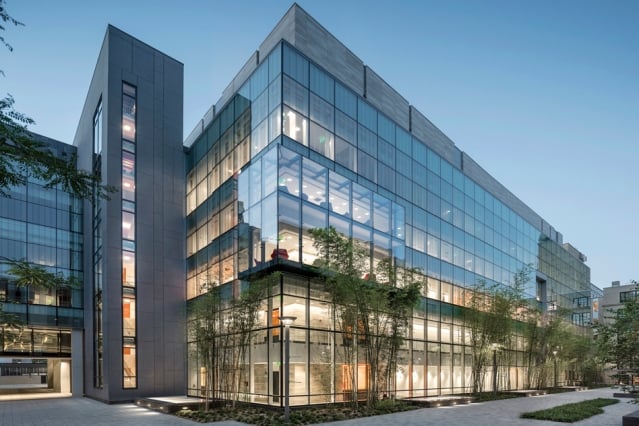 Rendering of the MIT.nano building. Source: Wilson Architects
Built at the heart of the MIT campus, the 214,000 ft2 center is ready to harness the power of nanotechnology for the good of humanity by offering advanced facilities to the MIT community of faculty, students, researchers and partners.
"In recent decades, we have gained the ability to see into the nanoscale with breathtaking precision. This insight has led to the development of tools and instruments that allow us to design and manipulate matter like nature does, atom by atom and molecule by molecule," says Vladimir Bulović, the Fariborz Maseeh Professor in Emerging Technology and founding director of MIT.nano.
"MIT.nano has arrived on campus at the dawn of the Nano Age. In the decades ahead, its open-access facilities for nanoscience and nanoengineering will equip our community with instruments and processes that can further harness the power of nanotechnology in service to humanity's greatest challenges."
The MIT.nano is a sophisticated hub of scientific instrumentation. It has two full levels of class-100 clean rooms — a standard that allows no more than 100 particles of 0.5 microns or larger per cubic foot of air. In addition, MIT.nano will also have one floor dedicated to teaching labs and a maker space with tools to develop prototypes and demos of the ideas produced at the building. This space will feature an innovative teaching and research tool known as a computer-aided visualization environment (CAVE), which will allow high-resolution images of nanoscale structures to be displayed for an audience.
The structure will also include the quietest space on campus. This is a full floor of advanced imaging tools optimized for low vibrations and minimal electromagnetic interference.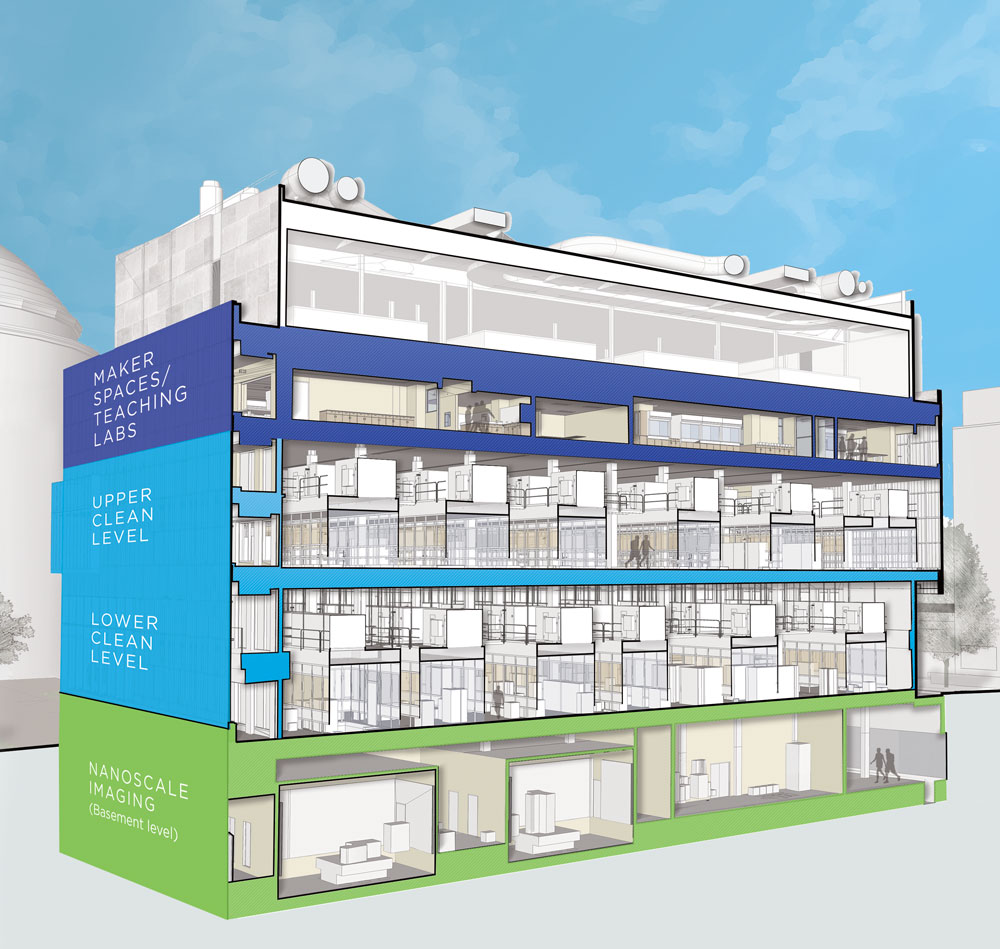 General layout of MIT.nano. Source: MIT
"In terms of vibrations and electromagnetic noise, MIT.nano may be the quietest space on campus. But in a community where more than half of recently tenured faculty do work at the nanoscale, MIT.nano's superb shared facilities guarantee that it will become a lively center of community and collaboration," says MIT President L. Rafael Reif.
"I am grateful to the exceptional team — including Provost Martin Schmidt, Founding Director Vladimir Bulovic, and many others — that delivered this extraordinarily sophisticated building on an extraordinarily inaccessible construction site, making a better MIT so we can help to make a better world."
This building, occupying a space alongside the iconic MIT Great Dome, replaces the existing building 12 and will retain its number. It will interconnect with most of the neighboring buildings and will be accessible from MIT's Infinite Corridor.
Besides its capabilities for research activities, the building will foster communication among researchers from different disciplines due to its location at a major campus crossroads. Architects made heavy use of glass walls to allow views into research and teaching areas, including into cleanrooms, and designed soaring lobbies and common areas to offer an environment for collaboration and interaction.