Researchers at Lawrence Livermore National Laboratory (LLNL) have developed what it claims is the first 3-D printed aerospace-grade carbon fiber composites.
Carbon fiber is lightweight but is also stiff and strong with resistance to high temperatures making it popular in aerospace, defense, automotive and sports industries. Carbon fiber composites are typically fabricated by either physically winding the filaments around a mandrel or weaving the fibers together like a wicker basket. This results in carbon fiber that is limited due to its flat or cylindrical shape.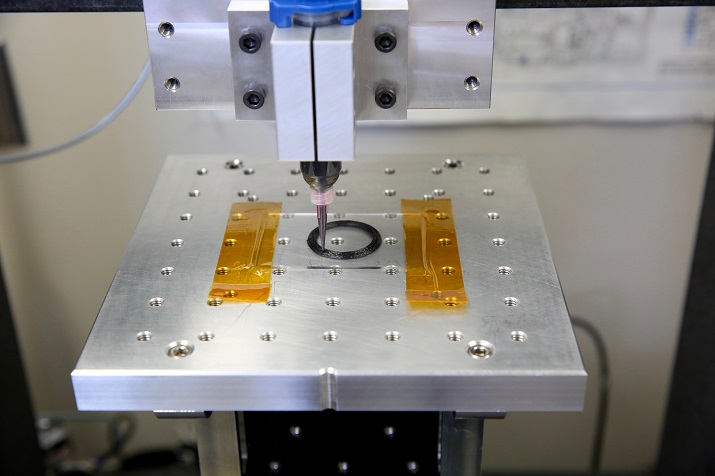 3-D printed carbon fiber composites are more flexible than traditional composites leading to its possible use in satellites, airplane wings and wearables. Source: Lawrence Livermore National Laboratory. "The mantra is 'if you could make everything out of carbon fiber, you would'—it's potentially the ultimate material," says Jim Lewicki, principal investigator at LLNL. "It's been waiting in the wings for years because it's so difficult to make in complex shapes. But with 3-D printing, you could potentially make anything out of carbon fiber."
LLNL researchers were able to print several complex 3-D structures through a modified direct ink writing (DIW) 3-D printing process by developing a new chemistry that can cure the material in seconds instead of hours. They then used the LLNL's supercomputers to simulate thousands of carbon fibers as they emerged from the ink nozzle to learn how best to align it.
3-D printing allows new degrees of freedom for carbon fiber allowing researchers to have control over the parts' mesostructure, researchers say. And because the material is conductive, it enables directed thermal channeling within a structure meaning it could be used to make high-performance airplane wings, satellite components that are insulated on one side and don't need to be rotated in space, or wearables that can draw heat from the body.
"A big breakthrough for this technology is the development of custom carbon fiber-filled inks with thermoset matrix materials," says Eric Duoss, materials and advanced manufacturing researcher at LLNL. "For example, epoxy and cyanate ester are carefully designed for our printing process, yet also provide enhanced mechanical and thermal performance compared to thermoplastic counterparts that are found in some commercially available carbon fiber 3-D printing technologies, such as nylon and ABS (a common thermoplastic). This advance will enable a broad range of applications in aerospace, transportation and defense."
The next step is to turn to optimizing the process and figuring out the best places to lay down the carbon fiber to maximize performance. LLNL has also been in discussions with commercial, aerospace and defense partners on future development of the carbon fibers.