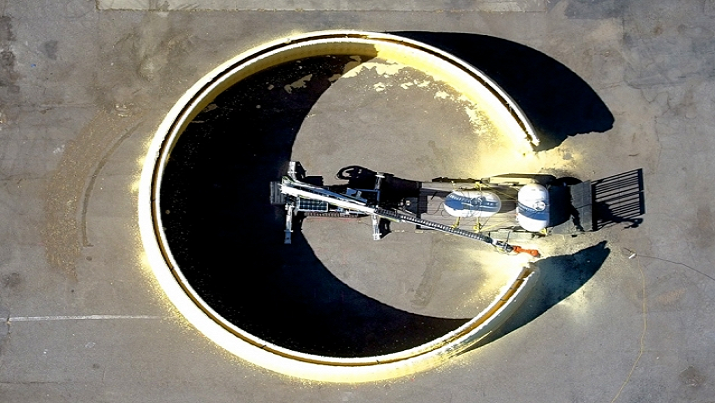 MIT researchers have designed a system that can 3-D print the basic structure of an entire building. The system consists of a tracked vehicle that carries a large industrial robotic arm, which has a smaller, precision-motion robotic arm at its end. (MIT)The world of construction is about to change completely. Researchers at MIT have developed a new printer that can 3-D print the basic structure for an entire building. This could save money, time and resources for the construction industry.
The buildings that are built with this printer are completely customizable, the possibilities are endless depending on the needs of the site. Different materials could be used at any point of the process. The material density can be customized for the best combinations of strength, insulation etc. This new approach to construction could allow for new kinds of buildings and designs that aren't achievable with traditional building methods.
The system is made up of a tracked car that carries an industrial robotic arm, which in turn has a smaller precision-motion robotic arm at the end of it. The arm is easily controllable and can be used to direct any construction nozzle needed during construction, as well as other effectors like a milling head. The system's nozzles are adaptable to the density of the material that is being poured. It can even adapt to different materials as it is pouring them. In initial tests, the system created a foam shell that would be left in place after pouring the concrete, and the exterior or interior materials are applied to the foam. Any wiring or plumbing that needs to be added can be put into the mold before pouring concrete.
This printer is different than the traditional 3-D printer, which is confined to the space in their fixed enclosures. This system is free-moving and can construct an object in any size. To prove this, researchers had a prototype build a basic structure of a 50-foot-diameter, 12-foot-high dome, and it was finished within 14 hours.
The system uses a foam-insulation framework to form a finished concrete structure. This method is similar to construction method currently in use, where polyurethane foam molds are filled with concrete.
Researchers' goal for this system is for it to be completely self-sufficient. It comes with a scoop that can be used to prep the building surface and gather materials. The whole system is operated electrically and powered by solar panels. They hope that a system like this could be put in a remote location like the developing world or disaster relief area after a storm, and provide quick and quality shelter.
The ultimate vision is "in the future, to have something totally autonomous, that you could send to the moon or Mars or Antarctica, and it would just go out and make these buildings for years," says Keating, who led the development of the system as his doctoral thesis work, "We also wanted to show that we could build something tomorrow that could be used right away." That's what the team did with its initial mobile platform. "With this process, we can replace one of the key parts of making a building, right now. The construction industry is still mostly doing things the way it has for hundreds of years. The buildings are rectilinear, mostly built from single materials, put together with saws and nails and mostly built from standardized plans" he says. This new system could change the efficiency of the construction industry completely.
This research was published in the journal Science Robotics, in a paper by Steven Keating PhD '16, a mechanical engineering graduate and former research affiliate in the Mediated Matter group at the MIT Media Lab; Julian Leland and Levi Cai, both research assistants in the Mediated Matter group; and Neri Oxman, group director and associate professor of media arts and sciences.