New applications for 3D printing turn up every day. You can print human body parts, pasta, or entire automobiles. Japanese artist Aki Inomata designed and printed shells for hermit crabs for a series of works aptly titled "Why Not Hand over a Habitat to a Hermit Crab?"
Inomata frequently collaborates with animals in her art. On her website, the artist declares that "[m]y art results from working together with living things. I see living things overlap with human beings. And I also view human beings from new perspectives to rediscover ourselves."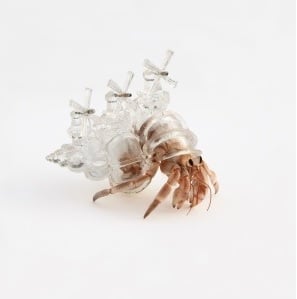 Hermit crab shell by Aki Inomata. Credit: Aki InomataThe inspiration for the hermit crab collaboration came from an exhibit at the French Embassy in Tokyo in 2009. In 2009, the land on which the embassy stood reverted to Japanese from French rule for the next 50 years. In 50 years, the land reverted to French ownership. This peaceable shift of ownership reminded Inomata of hermit crabs, which change shells as they grow, picking up a shell cast off by another creature. Their Japanese name, yadokari, literally means someone living in a temporary dwelling.
The artist created her first hermit crab habitats in 2009. The crabs rejected these spherically-shaped shells, leading Inomata to design homes that both suited the crabs' shape and made an artistic statement.
Using CT scans, she developed detailed 3D images of hermit crab morphology. These scans enabled her to print shells that felt more home-like to the crabs. She embellishes the top of the acrylic "shells" with models of buildings from different cities, including a Tokyo wedding chapel, Thailand's famous Wat Bang Phra temple, and Paris apartment buildings.
The crabs approved of her new designs. Video of the crabs, festooned with tiny building models and crawling in the sand, is as charming as it is surprising.
Inomata's innovative art garnered the grand prize at 2014's YouFab Global Creative Awards. The YouFab competition "seeks to activate and promote digital fabrication by engaging and rewarding the creative brilliance of makers." YouFab is an international competition that confers awards for creativity in fields ranging from product design to fine art.
Inomata's more recent work includes transposing clamshell growth lines onto record disks, work suggested by the tremendous changes to Japan's seacoast after the 2011 earthquake. She has also reconstructed fossilized ammonite shells using 3D printing.