Adidas is developing the next-generation of athletic shoes featuring 3-D printed midsoles using a process that mixes digital light projection, oxygen-permeable optics and programmable liquid resins to create durable polymeric footwear.
In a partnership with start-up Carbon, the new shoes, called Futurecraft 4D, will be based on Carbon's Digital Light Synthesis additive manufacturing process that allows Adidas to precisely address the needs of each athlete in regards to movement, cushioning, stability and comfort with one single component.
"With Digital Light Synthesis, we venture beyond limitations of the past, unlocking a new era in design and manufacturing," says Eric Liedtke, Adidas group executive board member for global brands. "One driven by athlete data and agile manufacturing processes. By charting a new course for our industry, we can unleash our creativity—transforming not just what we make, but how we make it."
Adidas will re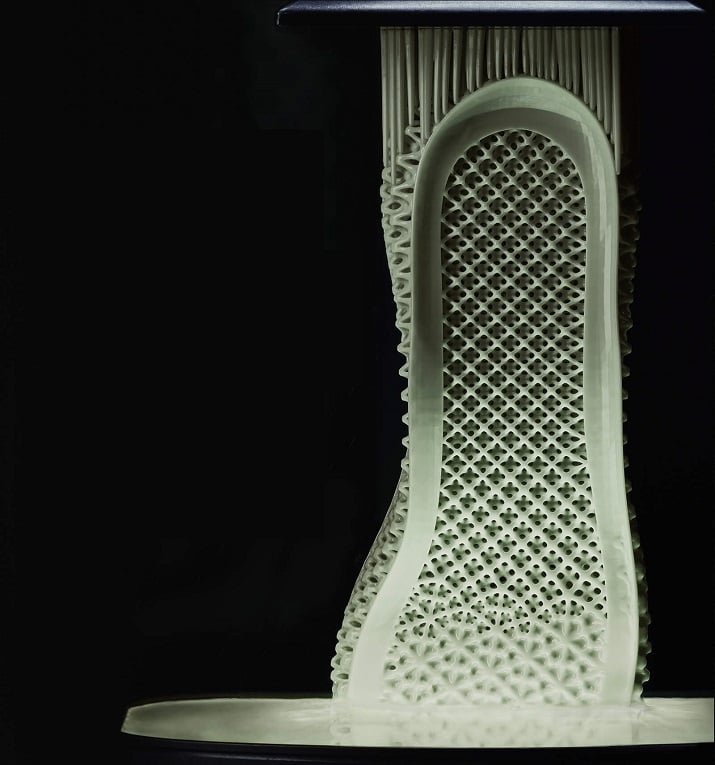 The midsole created by Adidas and Carbon that uses a new additive manufacturing technique that combines light and oxygen. Source: Adidas lease 300 pairs of the Futurecraft 4D shoes this month for friends and family and will follow it up with more than 5,000 pairs for the retail market in the fall of this year. The company plans to further scale the shoes in the following seasons.
Unlike traditional 3-D printing, which is hindered by low production speeds, poor surface quality and color and material restrictions, the Carbon process eliminates these limitations allowing products to be created and delivered to consumers faster, Adidas says.
Adidas rolled out its first 3-D printed performance footwear in 2015, the Futurecraft 3D Runner. Now the company will begin mass producing Digital Light Synthesized footwear and will continue to work with Carbon to develop new materials and machinery to bring other innovations to market. Adidas will also integrate the process into its Speedfactory to provide custom-made products tailored to an individual's physiological data.
"Despite the influence of technology to improve almost every other aspect of our lives, for eons the manufacturing process has followed the same four steps that make up the product development cycle – design, prototype, tool, produce," says Joseph Desimone, co-founder and CEO of Carbon. "Carbon has changed that; we've broken the cycle and are making it possible to go directly from design to production."