The rise in the number of connected Internet of Things (IoT) devices this year is expected to jump by 15 percent year-over-year to reach a whopping 20 billion, according to a new report from IHS Markit.
The market research firm sees businesses developing numerous opportunities across the IoT segments this year by linking disparate systems of connected devices that range from multi-screen content sharing to smart city networks.
"These internet-connected devices can be used to enhance communication, automate complex industrial processes and provide a wealth of information that can be processed into useful actions—all aimed at making our lives easier," says Jenalea Howell, research director for IoT connectivity and smart cities at IHS Markit.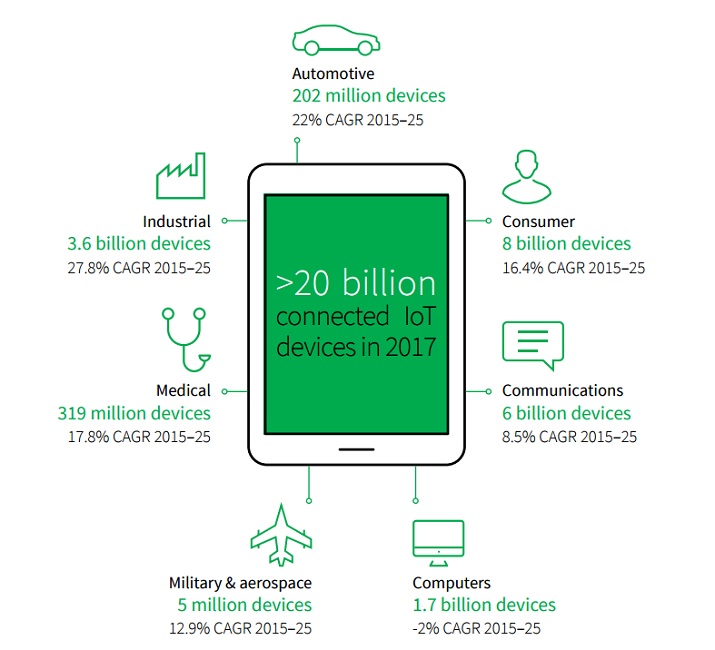 IHS forecasts the industrial sector as being one-third of the total connected IoT devices by 2020. Source: IHS Markit The industrial sector will account for nearly one-half of the new connected devices deployed between 2015 and 2025, IHS says. This includes such sectors as building automation, industrial automation and automated lighting.
What's pushing the growth in IoT in 2017? IHS sees four trends:
First, a shift is happening in the IoT business models where developers are focusing on how they will monetize new streams of data delivered by IoT deployments. These models include improving ongoing relationships with customers, consolidation of competitors or companies with compatible portfolios and a term IHS calls "servitization."
Secondly, enabling scalability will require increased holistic views of securing systems and moving beyond only focusing on device security. IHS forecasts industrial cybersecurity hardware, software and devices will surpass $1.8 billion by 2020 as security companies must deal with new IoT devices as well as new waves of mobile devices connecting to corporate networks. Scalability will be further enhanced by IoT standards groups and industry organizations further aligning in order to improve standards in the various regions IoT plays.
Next, IoT players will work to find business models that will lead to monetizing the data that's been created. Currently, a number of models are being tested to determine what works and for what applications. These include advertising, services, retail and big data. IHS believes as these models are identified and implemented, the pace of innovation will slow in IoT.
The final trend is how new wireless technologies will push IoT into new applications at both the low and high ends. At the low end, IHS sees low-power wide-area network (LPWAN) showing some promise because of its low cost, low power and low range. This could potentially connect millions of devices that previously were not unified in a practical way. At the high end, 802.11ad makes it possible to wireless connect high performance applications such as 4K video. Naturally, with 5G coming, IHS says the technology will play a role in addressing new, mission-critical use cased for mobility beyond 2020.
Learn more about IHS Markit's new report, "IoT Trend Watch 2017," by visiting: https://www.ihs.com/info/0117/IoT-Trend-Watch-2017.html