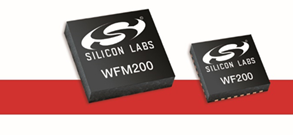 THE WFM200 WiFi module and WF200 transceiver. Source: Silicon LabsSilicon Labs has introduced a new Wi-Fi portfolio designed to simplify power-sensitive, battery-operated internet of things (IoT) devices, powered by Wi-Fi, such as security cameras, point of sale terminals and consumer healthcare devices.
The WF200 transceivers and WFM200 modules support 2.4 Ghz 802.11 b/g/n Wi-Fi with high performance and reliable connectivity as the number of connected devices increases in home and commercial networks.
IHS Markit forecasts the market for Wi-Fi devices in low-power IoT applications will grow to 584 million units per year by 2021, up from 128 million units per year. So additional Wi-Fi connectivity in battery operated IoT devices will soon become a must for consumers and manufacturers.
Silicon Labs says the Wi-Fi devices feature a low transmit and receive power, have 200 µA average Wi-Fi power consumption, have a link budget of 115 dBm for long-range Wi-Fi transmissions, antenna diversity and wireless co-existence in crowded 2.4GHz environments, advanced security features such as secure boot and host interface, hardware cryptography acceleration supporting AES, PKE and TRNG and more.
The devices are currently sampling to selected customers with production slated to begin in the fourth quarter.