When you think about drinking a beer, how it gets to your local store and into your hand probably is not the first thing you consider.
But Anheuser-Busch is thinking about it due to the fact it ships 1.2 million truckloads of its beverages each year in the United States. That is why the company is teaming up with transportation company Otto to test new ways to deliver beer throughout the country.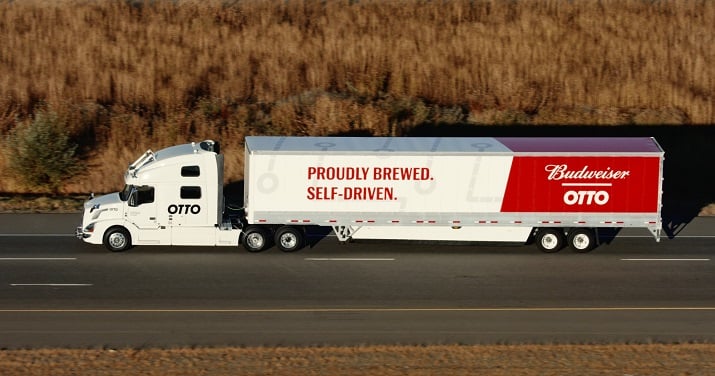 Otto's self-driving technology powered a truck that delivered 51,744 cans of Budweiser 120 miles in the state of Colorado. Source: Otto Otto and Anheuser-Busch have completed the first test of the first shipment of Budweiser beer by self-driving truck. Not only is the goal to improve driver and highway safety by making these trucks autonomous, but it also eases the load on drivers that sometimes have to make cross-country journeys lasting days on end.
In the test run, Otto hauled 51,744 cans of Budweiser from Fort Collins, CO, through downtown Denver and to Colorado Springs, CO. The truck was mounted with cameras, radar and lidar sensors in order to see the road. Otto's transportation system controlled the acceleration, braking and steering of the truck while a professional driver monitored the 120-mile journey from the sleeper birth in the back.
Otto says the test shipment was an important step in the company's vision to improve how productive and safe U.S. roads and highways are by not wasting fuel, not driving aggressively and not making another human error. The company says this is only the first step, and future collaborations are coming in an effort to change commercial transportation.