Augmented reality start-up Magic Leap has given users a brief look at what the future of media and entertainment with a demo of its hologram technology in a real-life setting.
In a demo, using its augmented reality technology, it shows two objects. The first is a little character that disappears under a desk, showing it might be tied to where the user moves their head. The second a model is of the solar system, including very detailed look at the Earth orbiting the Sun.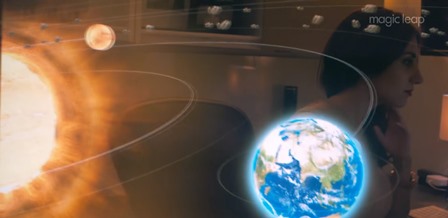 Magic Leaps demo shows images brought to life in stunning detail. Source: Magic LeapNot much is known about Magic Leap, except that its technology is designed to bring augmented reality images to life through a pair of glasses. The demo also claims to be special effects free. The technology impressed Google enough to help Magic Leap raise $542 million in funding in October 2014.
The start-up has some stiff competition with the likes of Microsoft creating its own augmented reality platform in its HoloLens project.
To watch the short Magic Leap demo, check it out on Youtube. Magic Leap's website also shows some of the ways in which its augmented reality might be used in practical and personal settings.
Questions or comments on this story? Contact engineering360editors@ihs.com
Related links:
News articles:
Eye-Tracking Module Targets Consumer Devices
Russian Fabless Startup Applies Some Imagination
Ceva IP Core Upgrades Vision Processing