Russia's JSC Baikal Electronics has developed a multicore system chip for embedded applications—the Baikal-T1—using the MIPS P5600 CPU core from Imagination Technologies Group plc.
The device is a system-on-chip (SoC) designed to be used across a range of applications, including telecommunications, industrial automation and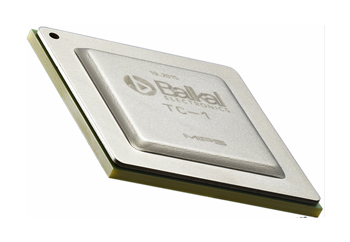 Baikal SoC in package but denoted TC-1embedded systems. It is already available in sample quantities, according to Imagination.
Products based on the Baikal-T1 are expected to be in the market at the end of 2015.
The Baikal-T1 is a dual-core processor, manufactured in 28nm CMOS, most likely by TSMC. It operates at up to 1.2GHz clock frequency and includes multiple high-speed communication ports, including 1Gbps and 10Gbps Ethernet, PCIe, SATA 6G and USB. It also includes low-speed interfaces such as GPIO, I2C, UART and SPI.
The packaged device measures 25mm by 25mm and consumes less than 5W of power, creating the possibility of fanless designs, according to a statement from Imagination.
Although it was founded in 2012, Baikal Electronics has not yet formally launched, according to its website. Baikal lists Russian supercomputer company T-Platforms and Rusnano Corp, the state-owned nanotechnology investment fund, as its financial backers.
The name of Baikal Electronics surfaced about a year ago in a report from Russia's Tass news agency. The agency reported that Baikal's first chips would be 64-bit Baikal M and M/S chips designed around the Cortex-A57 processor core by a unit of T-Platforms, with support from state-owned defense conglomerate Rostec. These chips, clocking at 2GHz, are aimed at personal and server computers, the report says. It is not clear as to whether those designs are completed or are just being kept under wraps.
Baikal Electronics could not immediately be reached for comment.
Political Motivation?

Tom HackenbergThe Russian government clearly has an interest in encouraging a domestic source of competitive processor chips for inclusion in government IT networks. But for embedded applications, including wireless routers and home gateways, Baikal has opted for the MIPS architecture.
Tom Hackenberg, principal analyst for MCUs and DSPs at IHS Technology, says Baikal's choice of MIPS is likely politically motivated, part of an effort to further the Russian government's attempt to create high-performance computing systems that do not rely on Intel's x86 architecture. Both Russia and China have long been attempting to break the Western stranglehold on the high-performance computing market, Hackenberg says.
"There is a common mistrust from all sides regarding advanced technologies from politically opposing sources," Hackenberg says. "Processors and computer boards are suspected of including tools for espionage or malware—some rightfully so."
Hackenberg notes that both Russia and China have made major propaganda statements touting domestic developers, many of which use the MIPS architecture. China's Loongson processors are also based on the MIPS architecture, Hackenberg notes. Russia recently boasted that the Moscow Center of SPARC Technologies had a competitive processor that would enable them to "ditch the Western reliance" on Intel's x86 architecture. "Baikal is just the next attempt at a native alternative to Intel," he says.
But Hackenberg says none of these MIPS- or SPARC-based processors have provided truly reasonable alternatives to x86-based platforms. "The truth is none of these solutions have been closer than two years behind in performance in comparison to x86 performance," he says.
Besides performance factors, there are software compatibility factors, Hackenberg says. These Russian and Chinese high-performance computers are relying on either Linux or home grown operating systems, which limits compatible software choices.
First Warrior P5600 Implementation
Grigoriy Khrenov, Baikal's chief technology officer, says that the Baikal-TI is the world's first publicly announced implementation of the latest MIPS Warrior P5600 CPU.
Baikal counts IP and EDA vendors ARM and Synopsys, foundry TSMC, packaging company ASE and research institute IMEC among its partners,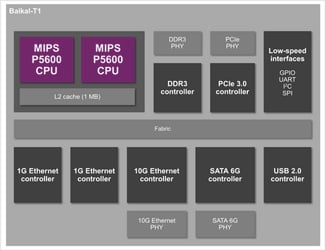 Block diagram of Baikal-T1 embedded processor SoC. Source: Imaginationsuggesting that the company is making a serious attempt to market semiconductors at close to the leading edge of technology.
IMEC and Denmark's Delta Microelectronics are also listed on Baikal's partner list, raising the possibility that Baikal went through the European Commission's Europractice service. This service, run by IMEC and Fraunhofer, helps get designs onto multiproject wafer to run with a number of foundries, including TSMC.
Baikal also counts ARM as a partner, suggesting that the company is also working on ARM-based SoCs—perhaps for use in server and supercomputer style applications.
"With the P5600, we created a high-performance, highly efficient communications SoC with a wide range of modern high-speed interfaces," Khrenov says.
Svetlana Legostaeva, CEO of Baikal, says the Baikal-T1's versatility, high-performance and energy efficiency will rival the industry's most advanced 32-bit communications chips.
Features of the P5600 include:
A 128-bit single-instruction multiple data (SIMD) to support imaging, multimedia codecs and DSP.
Hardware virtualization.
Support for up to six cores per cluster with cache coherency.
Virtual addressing.
Extended physical addressing that allows a 32-bit system to address up to 40-bits of physical memory.
Imagination's announcement of Baikal's chip comes on the heels of another Russian deal for the company. Earlier this month, Imagination announced that the Elvees group of companies is working on video analytic processors based on MIPS processor cores that will support up to 4K stereo video data streams.
Elvees has taken a broad license to Imagination's intellectual property, including PowerVR GPU, video and vision cores, 32- and 64-bit MIPS processor cores and Ensigma wireless connectivity processors (RPUs) supporting Bluetooth and Wi-Fi communications. As part of the strategic partnership, Imagination has licensed certain technologies from Elvees.
The SoCs being designed by Elvees will include home-grown IP cores in support of the high data rates required by 4K stereo and video processing such as facial recognition and augmented reality.
Questions or comments on this story? Contact peter.clarke@ihs.com
Related links and articles:
News articles: