The smart home is getting closer to reality, and technology companies are gearing up for it by providing specialized devices that will fit into a certain niche inside the smart home.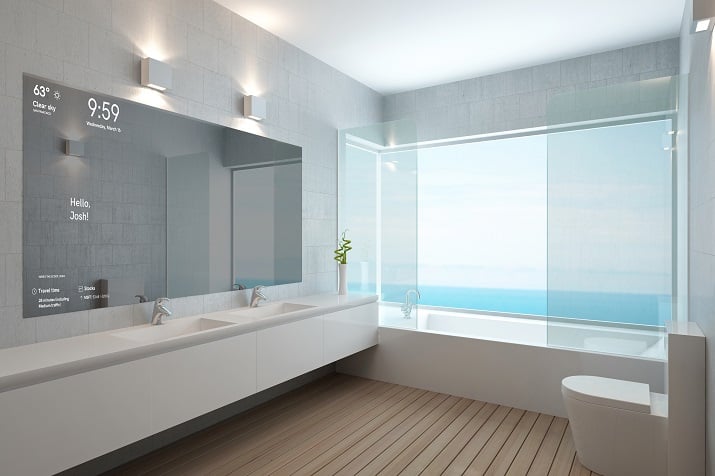 A standard mirror is made smart by placing an LCD display behind it and powering it using a Raspberry Pi computer. Source: MicrosoftMicrosoft is looking at converting standard bathroom mirrors in order to promote the move to the smart bathroom with its Magic Mirror display. The mirror is a one-way mirror that is made smart by placing a liquid crystal display (LCD) panel behind the mirror so that it can display white user interface elements in a black background.
When the display is on, you can see both your reflection and the information elements you decide should be running simultaneously, such as the time, the weather, calendar events, social media or even message reminders.
Based on Windows 10, Microsoft is providing the details on how to make its Magic Mirror available to anyone looking to build one of their own through an open-sourced Web application and assembly instructions. Microsoft is also giving a step-by-step look at how it created its own Magic Mirror using Raspberry Pi to power the smart device as well as the other materials it chose.
Microsoft also included a facial recognition capability in order to personalize the mirror for the individual in front of it. The company achieved this through APIs provided by Microsoft's Cognitive Services in order to match a user's face to his or her profile. A user can take a photo, add some personal information, and the software stores it in the Magic Mirror's database.
To learn more about the Magic Mirror or to build one of your own, visit: https://github.com/MicrosoftEdge/magic-mirror-demo
To contact the author of this article, email engineering360editors@ihs.com