Tobii has announced a next-generation eye-tracking module that combines the IS4 eye tracking platform and Tobii EyeChip. Together, they enable eye tracking in consumer devices such as desktop and laptop computers, tablets, cars, virtual reality and augmented-reality headsets.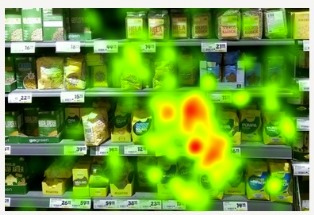 A heat map generated in Tobii Pro Studio software. Photo: Tobii ABThe IS4 provides a foundation for applications and interactions such as facial ID, head tracking and facial feature tracking. Tobii claims that the IS4 platform is the first to meet integration requirements specifically for notebooks. The Tobii EyeChip is a low-power compact SoC processor developed for eye tracking, that the company says is beneficial in VR applications as the chip optimizes power and performance without requiring a significant footprint.
The module provides OEMs and integrators with a lightweight platform that includes near infrared sensors, illuminators, Tobii EyeCore algorithms, a proprietary middleware engine and a software development kit (SDK).
The company is accepting registrations for the Tobii Early Access Program, whereby participating OEMs receive the Tobii IS4 eye tracking evaluation kit, integration guides, reference designs, support and collaboration. Limited quantities are available and first units will be shipped in December.
Related Links: