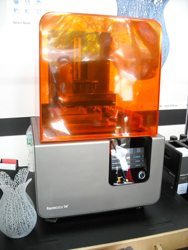 Formlabs' Form 2 SLA 3D printer. When Formlabs' Form 1 hit the market two years ago, it was one of the first stereolithography (SLA)-based 3D printing systems to bring the technology within reach of the Maker community. Priced at around $3,000, the Form1 delivered 10X or greater resolution than the best printer using the more common fused deposition modelling (FDM) technology. Now, the new Form 2 second-generation desktop SLA printer steps up the game even further by offering bigger print volume, even more uniform print quality, connected capabilities and an intuitive printing experience.
I managed to see the Form 2 in-person at the New York Maker Faire and was impressed at the many improvements Formlabs have managed to cram into the Form 2 while only raising its retail price by $500 to $3499. Some of the most significant improvements include:
Bigger prints: Its 13.5 × 13 × 20.5 inch working area represents a 40% increase in build volume over the Form 1+.
A new print process: It introduces a new sliding peel mechanism for easier removal of finished parts, and heated resin tank that makes it possible to print large, solid parts with intricate details. A wiper clears the print area on frequently, insuring your prints are free of unwanted particulates.
A more powerful laser: The Form 2's 250mW violet laser boasts roughly 2X the output power of the Form1's and a slightly smaller spot size (140 microns vs 155 microns). This translates into better print resolution and potentially higher print speeds at all four of the machine's selectable print thicknesses (25, 50, 100 and 200 microns). At present, its print speed is cranked up only far enough to make up for the time lost to wiping the working area. However, informal discussions with Formlabs revealed that even faster print speeds may be possible once the machine has proven itself to be as reliable as its predecessors.
An automated resin system: New resin cartridges will automatically refill the resin tank during the printing process, eliminating the need for "topping up" the tank manually (or running out of material in the middle of a print).
1-click print: An update to Formlabs' PreForm Software, this feature will prepare prints and simplify the printing process.
Connected capabilities: It offers wireless printing via Wi-Fi, creating custom notifications and mobile alerts. The new dashboard enables print progress to be monitored across multiple printers on desktop, mobile or tablet.
A Touchscreen display: Full-color touchscreen for managing print queues and viewing print status.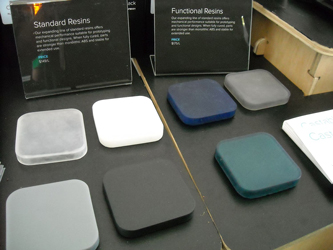 Formlabs offers its standard resin in several colors. Also available are functional resins that offer specialized mechanical qualities. The Form 2 can work with any of Formlab's ever-expanding library of lithography resins. While not nearly as extensive as the materials available for FDM printers, you now have your choice of several colors and specialized material properties. The so-called standard resin is available in white, black and gray as well as translucent. There are also three "functional resins" that offer specialized mechanical properties such as mechanical toughness, high flexibility or clean burn-out when used in metal casting processes.
This enables the Form 2 to print parts of unusually high quality with mechanical characteristics tailored to the application they are used in (Fig.3). In fact, many of the prints I handled during the demonstration could be mistaken for injection-molded products, except for the fact that their shapes would be impossible to produce using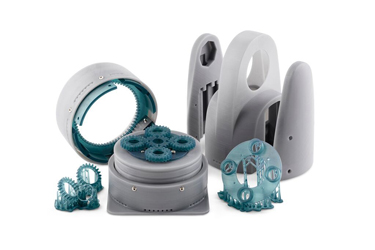 The quality of the Form 2's outputs rivals that of injection molded or machined parts. that method.
The Form 2 has been available for purchase since September 22 for $3,499 and includes Formlabs' PreForm software, 1 liter of resin for printing and a finish kit for post-processing the parts. More information is available at http://formlabs.com.
Questions or comments on this story? Contact engineering360editors@ihs.com