Amos Dudley, a New Jersey Institute of Technology student, took the Internet by storm
back in March
with his 3-D printed orthodontic mouthpiece (another form of braces). Now, he's working as an intern at a 3-D printing company that constructs different kinds of printers that employ stereolithography, a form of additive manufacturing used to create models, prototypes, patterns and production parts in a layer by layer fashion.
As a result of his new internship and inspiration, Dudley is up to his tinkering again – and this time he set out to create a completely 3-D printed camera.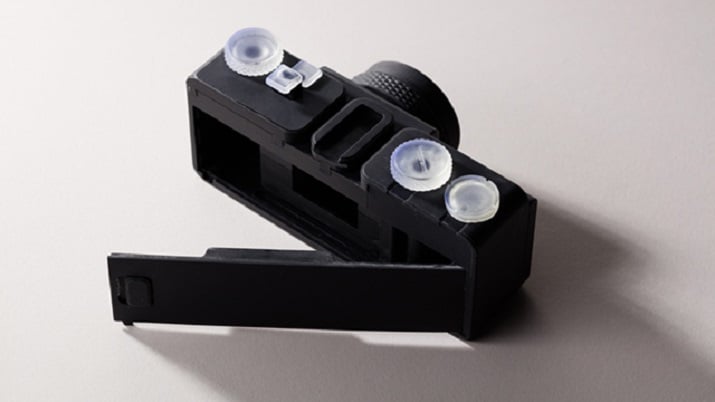 (Image via Amos Dudley)
"I heard from some people that it should be possible to print a lens, and some people had made some rough examples. No one had made one that was clear enough to resolve an image on a surface. So I set out to see if it was possible!," Dudley told Electronics 360.
To complete this task, he first needed to consider the main components of a camera: film cartridge, film take-up spools, gears to rotate the spools, shutter, aperture plane, lens, and lightproof box. Then he needed to simplify and condense them.
Since 35-mm is the most common film standard, Dudley decided to go with it for his camera, which he refers to as the SLO.
"It's also the only film size that's still relatively easy to get developed at a reasonable price," he said on his project website.
To create the 3-D printed camera, Dudley worked on a Form 2 SLA printer, which designs parts out of laser cured resin. The resins are made of different materials that range from strong and flexible, to rigid and softer.
Dudley admits that in the course of creation, the lens was one of the most challenging components. According to him, a typical FDM printer won't suffice when it comes to this part. A lens is considered the most important part of a camera and plays the biggest role in the quality of an image. Therefore, a lens needs to be incredibly smooth for light to focus across an imaging plane. While a stereolithography printer has the ability to make a lens with the right qualities, "prints come off the machine translucent and frosted- even at the highest print resolution of 25 microns per layer," according to Dudley.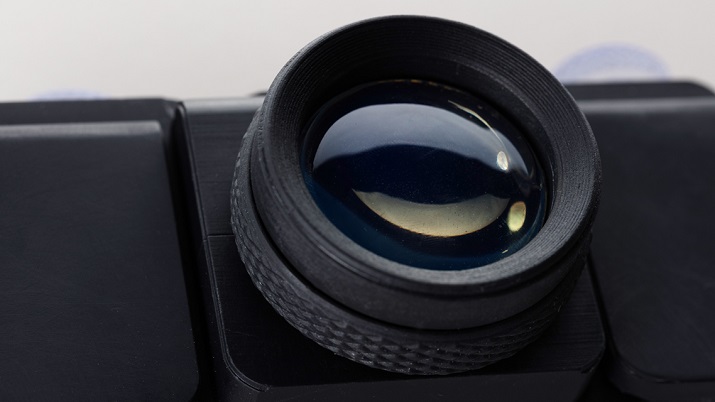 (Image via Amos Dudley)
The lens wasn't the only challenge, though.
"Most of the components needed multiple iterations to get to a working state," said Dudley. "A lot of that was learning the constraints of the 3D printer. Printed parts don't have the strength or durability of metal parts, so I normally started by making a larger version of a system, such as the shutter, and then miniaturizing it as much as the material would allow."
Since he used clear resin for the lens, he was able to sand it down smoothly. Sanding may seem pretty simple, but the process took Dudley nearly six hours per lens. While his lenses appeared to be transparent, they weren't optimal for performance since they produced surface reflections that were blurry.
To solve the problem, he employed a process similar to what's used in commercial lens making. Dudley ground the lens against a spherical form-- either concave or convex, depending on the need--using an abrasive semiliquid mixture of fine particles of cement in between.
He even developed a prototype machine for this task, which proved to be even more effective than doing it all by hand.
Since grinding and dipping lenses has an obvious effect on focal length, Dudley figured that testing the lens be slow and expensive. That's why he developed a printed lens tester. The tester looks a lot like a large, hollow micrometer, which allowed him to mount the lens to an Olympus OM-D Micro Four Thirds camera.
"Film is drawn through the camera by a sprocket rod, and then loosely gathered by a secondary take-up spool. The sprocket is geared to an indicator that shows you when you're at the next frame," said Dudley.
He then teamed up with photographer Rob Chron to test the camera at different aperture settings, shot on Fujicolor Superia 400.
Take a look at the results: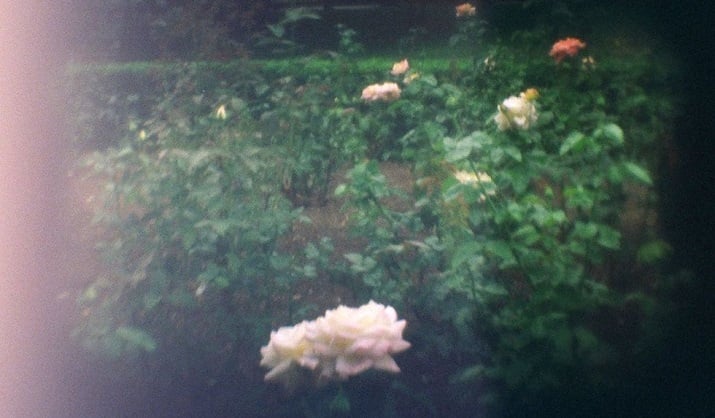 (Examples of photos taken with Dudley's 3-D printed camera lens)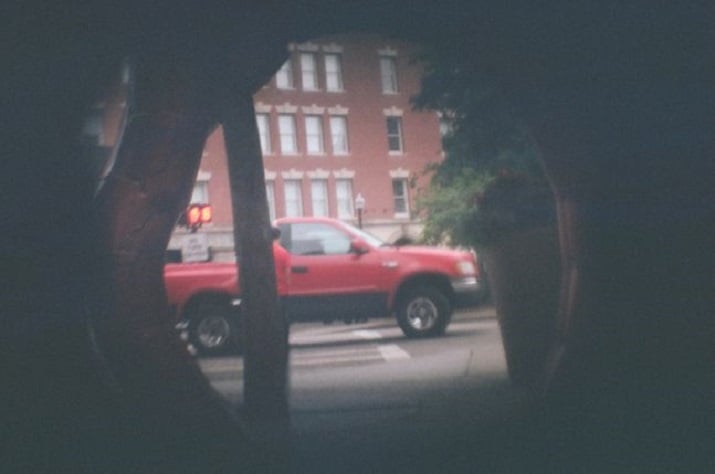 (Examples of photos taken with Dudley's 3-D printed camera lens)
What other creations will Dudley come up with? In addition to his recent 3-D printing projects, he's even tossed around the idea of creating a mirrorless viewfinder that would attach to a shoe.
"Basically a secondary lens in front of a clear plane with one side polished, so the image would be projected (upside down) onto it," according to Dudley.
Could his newfound ability to 3-D print camera lenses lead to a future of 3-D printing our own eyeglasses? The tech community is certainly hopeful.
At this time there's at least one company 3-D printing lenses commercially and Dudley says they're very expensive – more than $1,000 for a single lens.
"3-D printing lenses is very exciting, because you can make lenses that are very challenging to polish with traditional lens-making techniques, like the Alvarez lens or aspheric lens," said Dudley. "Desktop 3D printing still has a few years to go before direct printing of lenses is possible with no post-processing, but the fact that you can already print in materials that are optically clear (when you make the surface smooth) shows that it's not far off."