If you have an extra $132,000 laying around, you may have a reason to finally spend it.
Electric vehicle (EV) manufacturer Tesla has finally taken the wraps off its long-awaited electric crossover—the Model X—an EV that uses the same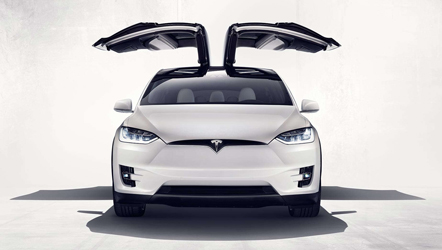 Tesla's Model X electric vehicle features falcon wing doors that swing open automatically. Source: Teslaelectric drivetrain as the Model S sedan with similar acceleration and about 250 miles of range per charge.
Tesla calls the Model X the fastest SUV that goes from 0 to 60 miles per hour (MPH) in about 3.2 seconds and reaches a top speed of 155 mph. However, one of the selling points of the EV beyond just being an EV is the look; a slick design with "falcon wing" doors (similar to a DeLorean) that swing open automatically and a panaromic windshield that allows you to see the sky above you.
Other innovations to the Model X include rear seats that sit on pedestals allowing for under-seat storage, extreme air filters that Tesla says can withstand a bio weapons attack (really isn't that what everyone wants) and a huge trunk for carrying loads of supplies or hardware. It also features a towing capacity of 5,000 pounds.
Remember seeing all those cool futuristic cars from movies such as "Minority Report" or "Blade Runner"? This is as close as it gets at this point, you just have to shell out more than $100,000 to get it.
Questions or comments on this story? Contact engineering360editors@ihs.com
Related links:
IHS Automotive & Transportation
News articles:
3 Ideas Hybrid/Electric Vehicle OEMS are Using to Increase Consumer Adoption
Tesla's Creepy Robo Snake Charger May be the Future of EV Recharging
A Tesla for the Skies: Get Ready for Fully Electric Planes