When building an aircraft that is to fly on electric power, you have to approach the design like an abstract painter approaches a canvas—with limited regard for convention or tradition. As such, in developing a fully electric aircraft, NASA is now in the midst of ground testing a radical 31-foot-span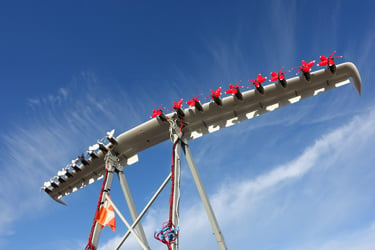 NASA's DEP prototype wingcarbon composite wing that employs 18 small, electrically-driven motors powered by lithium-ion-phosphate batteries. The multiple, small engine approach is called Distributed Electric Propulsion (DEP) and the experimental wing is known as the Hybrid-Electric Integrated Systems Testbed (HEIST), part of NASA's Leading Edge Asynchronous Propeller Technology (LEAPTech) project, which aims to prove that electric power will deliver improved efficiency and safety, as well as environmental and economic benefits. LEAPTech is a key element of NASA's plan to help a significant portion of the aircraft industry transition to electrical propulsion within the next decade.
Among the potential benefits:
Greater efficiency. The electric power plants are expected to be about twice as efficient as turbine engines, 3x to 4x more efficient than piston engines. Each motor can be operated independently at different speeds for optimized performance.
DEP planes produce zero in-flight carbon emissions.
Unlike jet engines the electric variety are not air breathing—so there will be no power shortfall with altitude or on hot days.
Integration improvements will come from shrinking the wing. The current general aviation aircraft have large wings to meet a 61-kt. stall-speed certification requirement. Airflow from the multiple leading-edge propellers means the DEP wing will get increased lift at lower airspeeds. So meeting the 61-kt. requirement can be accomplished with a much smaller wing.
Increased propulsion redundancy with multiple small engines, the aircraft will have the ability to better tolerate any single engine failure.
They will be relatively quiet. The goal is to achieve a 15 dB lower community noise envelope than current aircraft of the same size.
Using electric propulsion, however, does present design challenges. There are weight penalties (the battery packs required, weigh much more than aviation fuel) and batteries are expensive (for example, the 65 kWhr battery pack in a Tesla is valued at about $25K).
Going forward, NASA has approved a three-year, $15 million project to fly a DEP X-plane based on an Italian-built Tecnam P2006T twin-engine four-seat aircraft. The wings and engines would be removed and replaced with an improved version of the LEAPTech wing and 10-12 small electrically driven propellers. This demonstrator could pave the way for a 60-90 seat hybrid-electric regional airliner.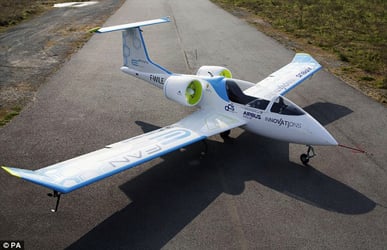 The Airbus E-fan electric planeElectric aircraft are already flying. The E-fan plane from Airbus Group is a fully electric aircraft that operates exclusively via twin 30kw fan engines powered by 120 lithium polymer batteries stored in its wings. Built from carbon fiber composites, it weighs only 1100 pounds and can stay aloft for 45 to 60 minutes. Its batteries can be recharged in one hour, according to Airbus. The two-seater is CO2 emission-free and nearly silent in flight. Since its first flight on March 11, 2014, the E-fan plane has now performed 100 test flights with more than 49 flight hours in total. In its most recent demonstration flight, it flew across the English Channel.
Airbus says it is only planning to build E-fan planes for entry-level pilot training. The company has established a subsidiary named Voltair to build the aircraft in a new factory in the city of Pau, France. The E-fan 2.0 is scheduled to fly in 2016 with deliveries beginning in 2017.